How to Pair Your Watch With Casual Wear – aGOODoutfit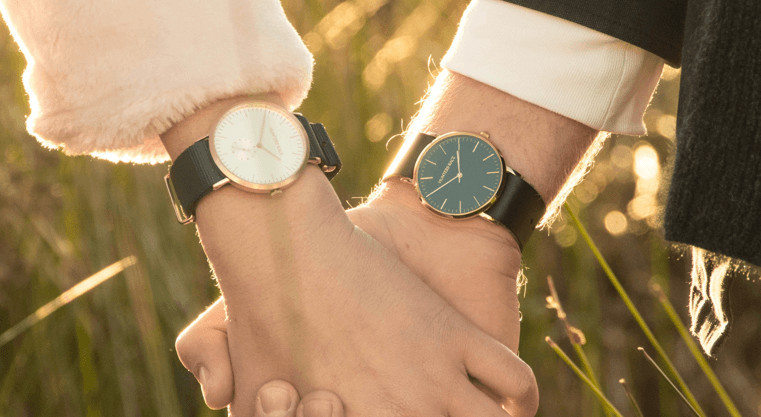 Below you will find tips on how to pair your watch with casual wear.
Choosing Which Hand to Wear a Watch On
If the hand is used for small work at the table when writing and working at a computer for example, the watch can interfere with fine motor skills. If your work is not related to hand specific work, then there are no restrictions on the rules, only practicality. It is easier to wear the watch and fasten the strap with your working hand and since "right-handers" prevail over "left-handers" in number, then those who wear a watch on their left hand outnumber the "watch right-handers".
Matching With Jewelry
It is important for watches to combine the color of metal with other jewelry. For example, if the chain with a pendant or bracelet is gold, then the watch should be chosen with gilding, but not silver-steel or black ceramic.
A combination of material for watches with a ring and earrings is desirable and something to keep in mind.
The combination with jewelry is also important. A classic minimalist watch is unlikely to look harmonious with a bright artsy bracelet with a bunch of multi-colored straps and stones.
Color Scheme
A stylish combination with accessories and cosmetics is crucial for women. For example, a version of scarlet lipstick, a red handbag and a gold-plated watch with a red leather strap would make a great color scheme combination.
Men love contrasts. A black watch with a white shirt and vice versa look great on men.
Silver and steel, as well as classic colors (black, white, brown) are suitable for almost any color combination in clothing.
What Should the Watch Strap Go With?
The watch strap should be combined, first of all, not with clothes, but with other accessories. It can be shoes, a belt, a purse, and also – for women – a bag, scarf, or gloves. It is desirable that the combination be harmonious both in texture and in color. But it is more important that the watch matches the style and shape of the whole image. So, it would not be a very good decision to wear a large watch on a thick leather strap for a light summer dress – even if the color of the strap goes well with the color of sandals no less light than the dress.
Long and Short Sleeve Situations
With a short sleeve, it is easier to wear a watch. Men wear watches on their wrists, women wear them just above the wrists. Women also try to wear bracelet watches just above the wrists so as not to hamper the movement of the hand.
If the sleeve is long, some inconveniences may arise. The sleeve closes the watch dial, and to view the time it needs to be moved away. At the same time, wearing a watch over a shirt sleeve is ugly, and constantly pushing it away is inconvenient. The exception is women's high gloves or a tight-fitting plain sleeve as a woman can afford the liberty of wearing a watch over her sleeve.
The way out of these tough long sleeve situations is a looser cuff on the wrist: when lowered, it covers the watch, and when the hand is raised, it exposes the dial, allowing you to use the watch comfortably.
Combination of Clothing Styles
Matching clothing style is definitely important. Sport style watches, even from expensive collections, will be out of place with business suits at a business meeting. The suit requires classics like a round or rectangular dial, a leather strap or bracelet, a light dial and hands – nothing more. Gilding is allowed in these situations. This also applies to women's watches. A business lady can afford to wear simple classics, but a watch decorated with stones with a bright bracelet is for a more free style or an evening dress.
Street clothing is the most free and open style. There are no strict restrictions, you can choose citizen watches, for example.
Sport is sport. Here we are not even talking about design, but about practicality. A gold watch with stones is easier to damage in extreme conditions of sports training.
But the evening style accepts both classic and fashion watches, both options will look harmonious with this style.
Always keep clothing style in mind.
What Is the Best Watch for My Wardrobe?
If you want to buy a watch for all occasions and not have to buy a series of watch accessories for different "looks" then you need to consider how the model will fit your everyday clothes. As for the women's wardrobe, the recommendation is – for strict simple clothes, it is good to choose an expressive and elegant watch model, possibly a jewelry one. If you like bright outfits of various styles, then, on the contrary, you should buy a watch that is not jewelry, moreover, restrained in color. So they will not "argue" with your bright dresses and blouses for visual attention, but will successfully shade them.
Men whose wardrobe is usually limited by more strict limitations, in such a case (the desire to buy a watch for all occasions) should select the highest quality model, quartz and shock-resistant, with a discreet classic design that looks good in all occasions. With a business suit, such a watch will be the central accessory of the created image – and will adequately play its role and will also not become dissonant with clothing that is less formal in style, and will not be damaged during sports or other physical activity.