How To Wear A Bomber Jacket In 2022: Bomber Jacket Outfits & Style Guide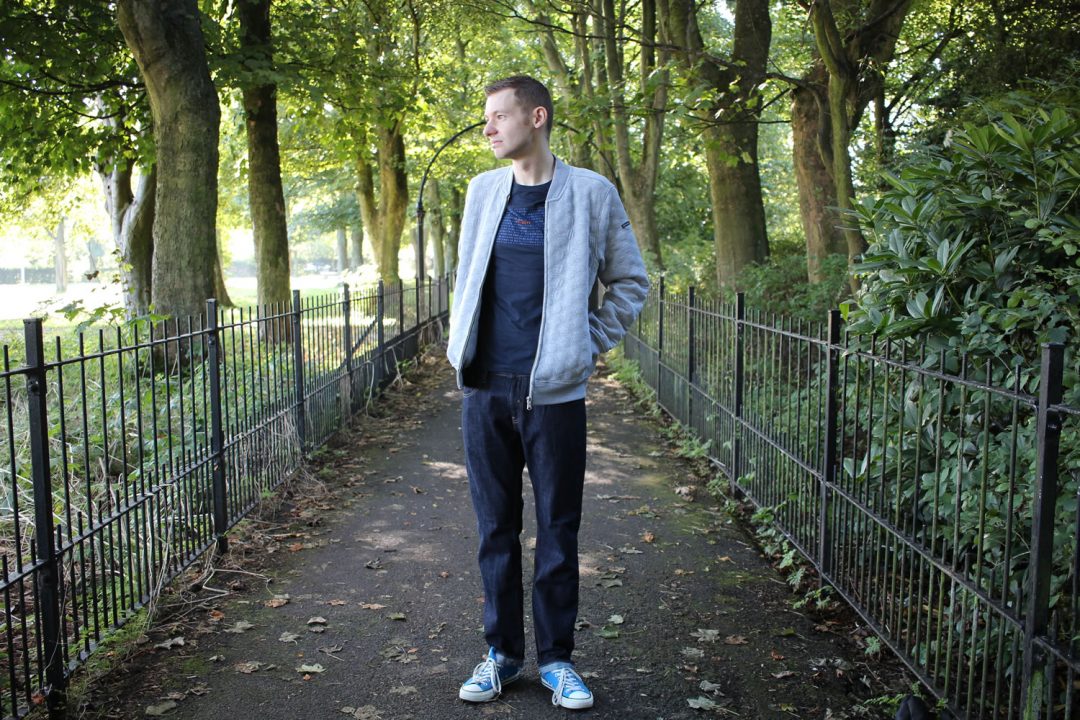 A bomber jacket is one of the most versatile jackets any man can wear.
There is no doubt about it, I love bomber jackets. They're a casual style of jacket which are short in length, perfect for throwing over your outfit for smart casual style.
With a vast array of styles, colour and materials, it's a piece of clothing which can be worn as a casual piece. In my opinion, it's a great choice when you need to wear an extra layer, but not cold enough to warrant wearing a fully blown 'big' coat.
In this guide you'll see how to style a bomber jacket, and everything else you need to know about them.
What Is A Bomber Jacket?
The modern day bomber jacket is a hip length jacket which is usually worn in the Spring, Summer and Autumn months as part of an every day outfit.
It can be thought of as a transitional piece of clothing, as it can be worn in different seasons depending on what clothing you combine with it.
A bomber jacket has a few characteristics. These include:
Hip Length – It should generally be short – It should come no further down than the top of your legs; In some cases you can get slightly shorter options
The neckline – This is usually a round neckline, similar to a crew new T-shirt.
The cuffs, neckline and ribbing at the base should be elasticated and knitted.
The fit should be close to the body – This is helped by the elasticated cuffs, neckline and ribbing.
Zip Fastening – Usually zip fastening.
The history of bombers can be traced back to the war where pilots wore them in World War II. This is where the alternative name of flight jacket comes from.
How Should A Bomber Jacket Fit?
A bomber jacket should fit close to the body. It is a hip length jacket which often comes with elasticated and ribbed bottom and cuffs giving it a fitted look.
A bomber jacket should be fairly tight fitting but not overly fitted. It can be slightly loose, but usually for a good fit it won't be too much of a relaxed fit.
What To Wear With A Bomber Jacket
As already mentioned, a bomber jacket is a stylish jacket which you can wear forming part of the smart casual dress code. You can take it a step in the more casual direction, wearing it  as a casual piece when you want to layer the rest of your clothes.
Bomber jackets are in style in 2022, as they are a pretty timeless item of clothing. Here's some of the key pieces you can wear in combination with a bomber jacket.
Bomber Jacket Outfits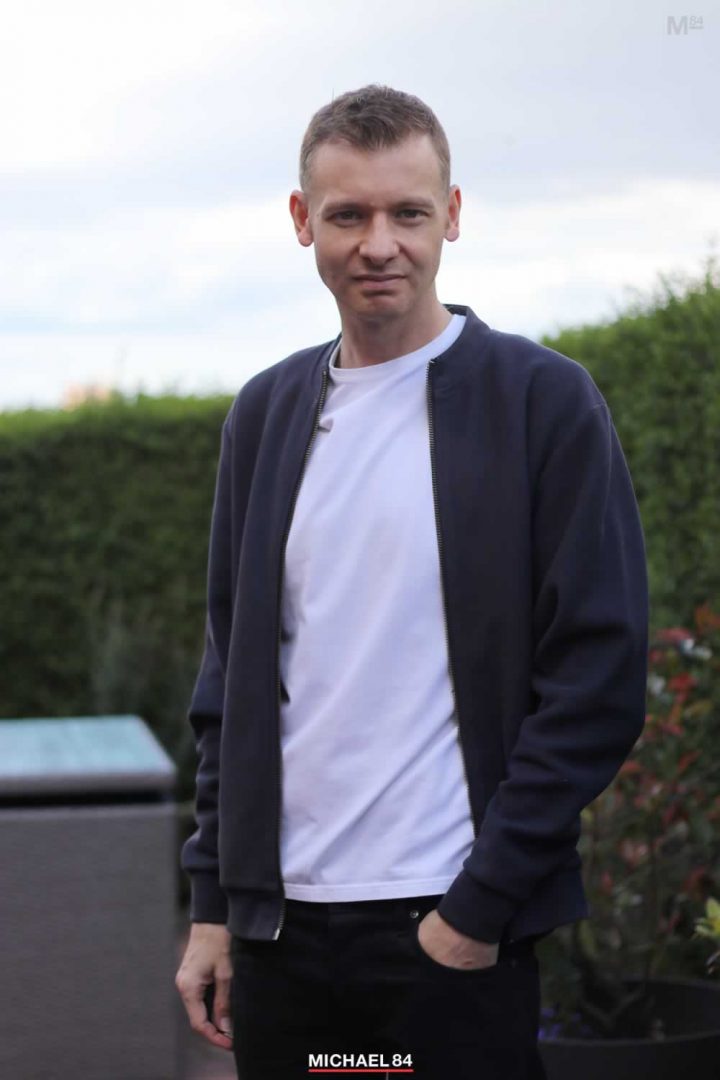 Bomber Jacket With A White T Shirt
Wearing a white t shirt with a bomber jacket is a classic look. I really love this combination, and it works every time. The perfect colour to pair with a white t-shirt is a navy bomber jacket.
It looks clean and very smart, considering these are two items of clothing which are on the more casual side. This is definitely considered a smart casual outfit, wear with a pair of jeans and some smart trainers to complete the outfit.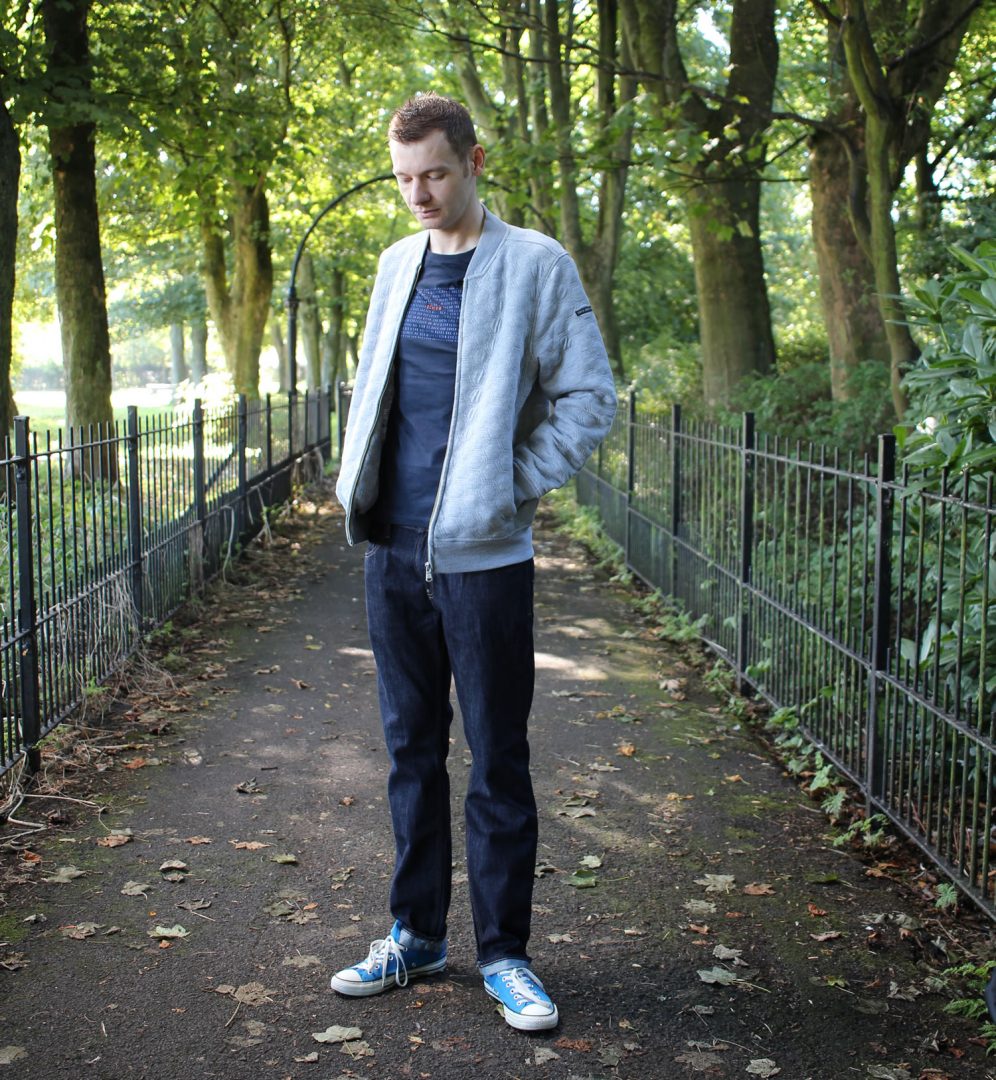 If you're thinking of wearing a navy T Shirt, a good bomber jacket to wear with this would be a contrasting colour such as a light grey. As you can see from the image above, I've gone for this look, and it works really well.
For a darker outfit, you can go for a dark grey or black colour, or for a one colour look keep the whole look navy with a navy bomber.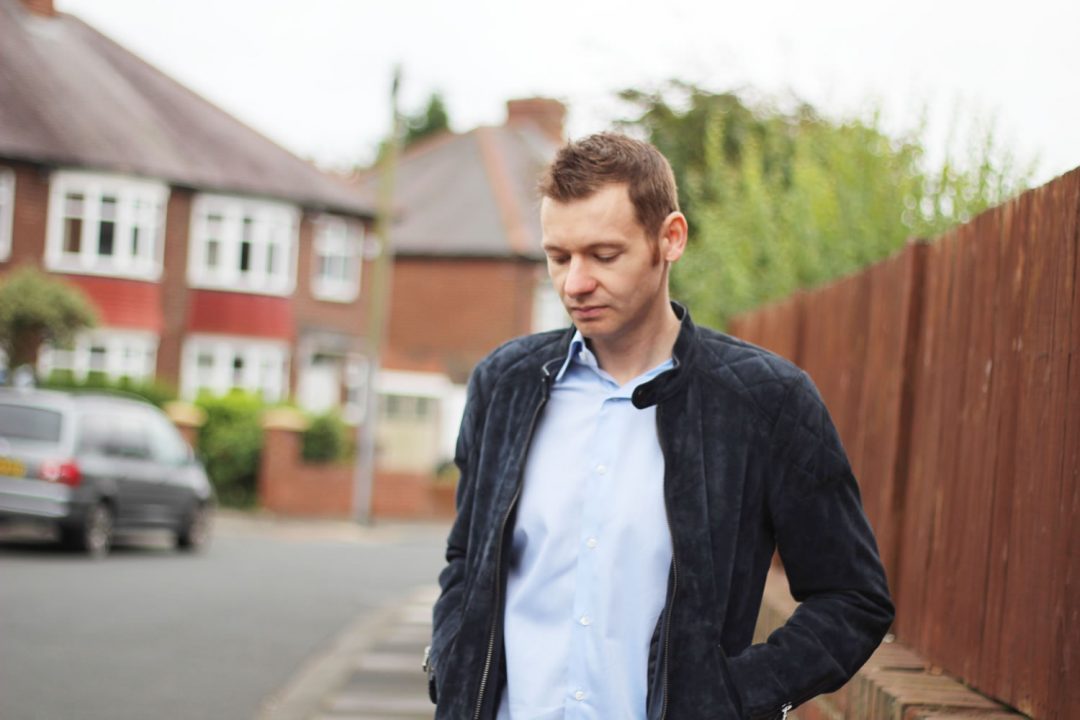 Bomber Jacket With A Plain Shirt
If you want to wear a shirt but want to add a more casual edge to it, teaming it with a bomber jacket is a great way of going about it.
A white shirt buttoned up will go with almost anything, including a bomber jacket. Wearing a white shirt means that it can be combined with any colour bomber jacket.
For this bomber jacket outfit above I've picked out a light blue T Shirt with my navy suede bomber which I think goes together really well.
To complete the outfit you can wear a pair of casual trousers or smart jeans, along with a pair of brogues.
Bomber Jacket With a Check Shirt
A check shirt goes with a bomber jacket really well, and it's a style of shirt which I love. There's so many ways to wear a check shirt with a bomber jacket.
You can wear them in their usual form, or wear the check shirt opened up and layer with a tee, which creates a layered look.
Either way, this would be seen as a more casual look, but it's one which I really enjoy.
Bomber Jacket With A Sweatshirt
When the temperatures drop and it's cold, you can still wear a bomber jacket. It all comes down to what you pair with it, and combining a bomber jacket with a sweatshirt can work well.
When it's the Autumn and Spring it's still cold here in the UK, but it's not winter weather. You may not need a big winter coat at times, and a bomber jacket can be a good alternative.
For the dress code, it will come down to the style of sweatshirt you opt for. A plain style will look smarter and could work on smart casual, and a logo or patterned variation will be seen as more of a casual option.
Bomber Jacket With Dark Blue Jeans
When it comes to what to wear on your lower half, a pair of jeans is one of the go to items. If you like denim and want to go for a smart casual look, a dark pair of denim is the way to go.
Make sure the jeans fit well, and go for a plain and solid dark colour such as indigo. No distressed or ripped jeans, otherwise you'll be airing towards casual.
Bomber Jacket With Chinos
If you want something which could be considered a little smarter than jeans but not as formal as trousers, chinos fills the gap.
The best thing about wearing chinos is the colours which they're available in. If the rest of your outfit is lacking in personality, a coloured pair of chinos will brighten things up. Go for a neutral colour such as khaki or olive to keep your look toned down while giving it some colour.
Bomber Jacket And Joggers
For the ultimate in laid back and casual bomber jacket outfits, wearing it with some joggers is the way to go.
Joggers have made a stylish comeback recently, with patterns and slim fits becoming fashionable. There's also been a rise of guys taking to the athleisure trend, where you put comfort before everything.
Just because this is a casual outfit doesn't mean it won't look good. If you're relaxing at home, or doing something which doesn't require getting dressed up for, it can be a good look.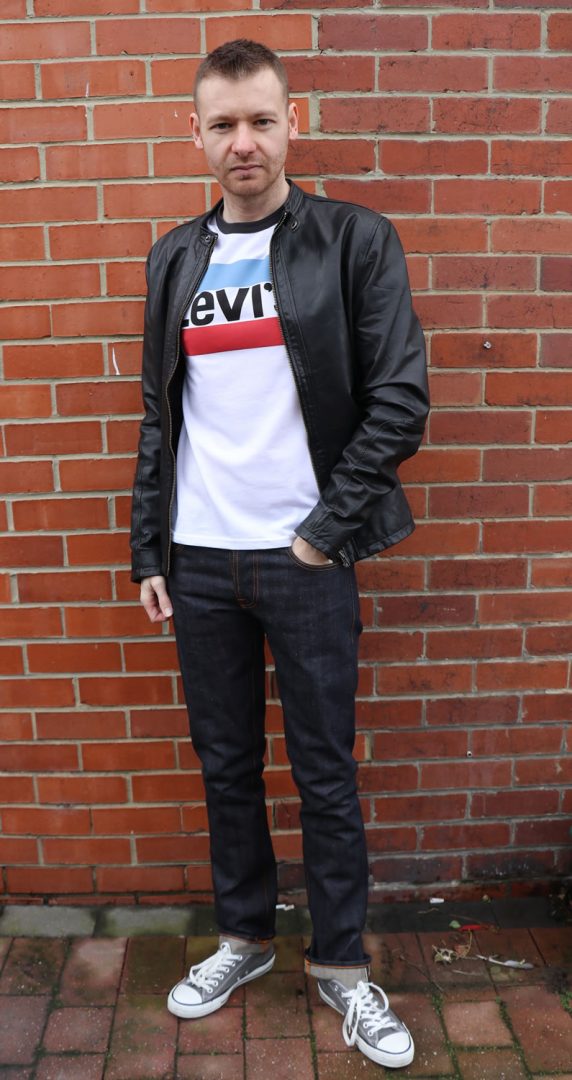 A Leather Bomber Jacket And A White T Shirt
Last up is wearing a leather jacket with a white T Shirt. This is another classic look, and never goes out of style.
You can go monochrome with a black leather jacket, black jeans and a white T Shirt. This is akin to a rockstar look. If the rockstar look isn't what you're going for, swap the black leather for brown, and wear some indigo jeans.
What Shoes To Wear With A Bomber Jacket
When it comes to footwear, there's two main options: Shoes and Trainers. You should always dress for the occasion, this applies with shoes as well as the rest of your outfit.
For shoes, brogues work best. They are smarter than trainers, but less formal than a pair of Oxfords. Since a bomber jacket is not formal attire, Oxfords would be wasted and would be overkill for a bomber.
However when it comes to good shoes, you can never go wrong. (Check the guide on the best shoes men should own)
The other option is trainers. They will go well with a bomber jacket, and most will be a perfect match. I think the perfect pair of trainers to pair with a bomber jacket would be a pair of clean cut trainers.
A pair of fresh white leather trainers will work well with a bomber, providing they go well with the jeans, chinos or trousers you've chosen.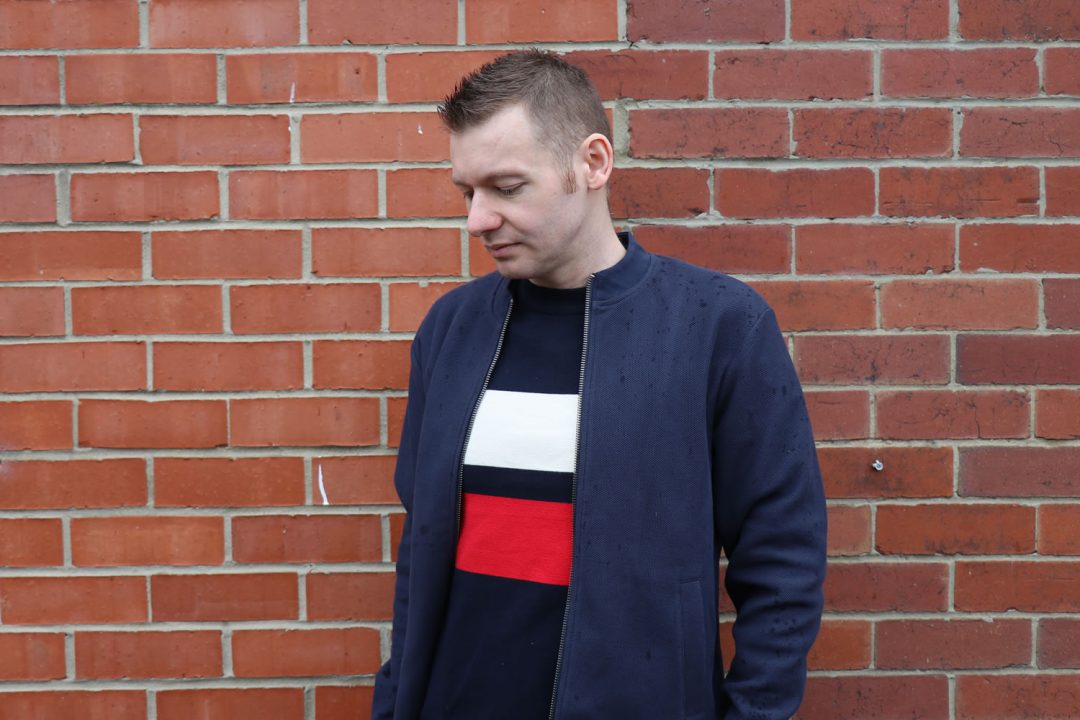 Navy bomber jacket outfit: Wearing Navy jacket with striped sweatshirt and jeans
When Do You Wear A Bomber Jacket?
When it comes to dress codes, a bomber jacket can be used in either a smart casual or casual outfit. This very much depends on what you wear with the piece, as well as the style of the jacket itself. As already mentioned it's an incredibly versatile jacket.
Here's some perfect occasions where you can put on your bomber.
A Bomber Jacket Is Perfect For Smart Casual Dress Code
If you're looking for a jacket to wear on a night out, a bomber jacket can be considered as part of a smart casual outfit.
First of all, this should be a reasonably smart bomber jacket. It should be plain in colour, and preferably a staple or neutral colour. These include black, navy, grey and other neutral tones.
Once you've got the colour of the jacket sorted, you need to work out what colours go with it. If you've picked out navy or black, you're in luck. Almost everything goes with these colours, and wearing a dark colour bomber is a very safe bet.
You can pair this up with almost anything. For a smart casual look this could be a plain T-shirt and pair of dark denim.
When it comes to your shoes, you can wear a pair of brogues, or a pair of smart trainers for a bit of an edge.
Casual Occasions
If you're wearing a bomber jacket for a casual occasion, the number of things you can pair up with it is pretty much endless.
For the ultimate in laid back style, you can wear it in an athleisure outfit, pairing up the jacket with the same colour joggers. If joggers aren't too your fancy, a pair of light denim could be your preferred option.
Your Bomber Jacket Style Questions Answered
Should you zip up a bomber jacket or wear open?
You can wear a bomber jacket either zipped up or fully open. This depends on what style you'd like to go for.
Wearing it open is usually preferable, as if you've layered clothes you'll be able to show them off with the bomber fully open. This is more often seen in warmer seasons such as Spring and Summer.
But if the temperature drops and it gets cold, you might opt to wear your bomber jacket zipped up.
Are Bomber Jackets In Fashion Right Now?
Bomber jackets are timeless fashion, they never really go out of style. With that said, bomber jackets are in style right now.
Remember that the bomber really just states the length of the jacket. You can wear a bomber length leather, suede or cotton jacket almost any time of year, providing you combine them with the right clothes.
To make sure you're always looking your best, opt for a staple colour bomber jacket, as other colours may be seasonal.
What Do You Wear Under A Bomber Jacket?
As you've seen above, there really isn't a wrong answer. You can wear almost anything under a bomber jacket, and it will look good. The trick is to match up the style and the colours of the bomber jacket to the rest of your clothing.
If you're keeping things simple with solid colours, you can team up a shirt, sweatshirt or T-shirt with a bomber jacket with ease and it will look good.
Going for something more extravagant such as stripes or patterns, you'll want to make sure your clothing all compliments each other well.
Bomber Jacket Colours
There's a huge number of options when it comes to the style of the jacket along with it's colour.
For the most versatile option, plain styles are the way to go. They're both smart and casual depending on what you choose to wear with them.
If you want to make a statement you can go for a pattern or graphic, but generally it's better to stick to the classics.
This is where the staple colours come into play. Black, grey, navy and other blue hues are perfect and will go with practically anything you can throw at them.
Other colours such as greens and reds will also work, but you may have to may more attention to the colours you're wearing with them to avoid a clash.
I've already mentioned a navy bomber jacket above, but I think it's possibly the best colour. It's dark but not black, and will go with everything. For a casual outfit I would go for a plain white tee, make sure the fit is good.
Another good option to explore would be a linen bomber jacket. These are great for a summer outfit, and can be teamed up with a shirt as shown for a cool and edgy summer look.
To smarten things up a shirt will not look out of place, white would be good, but a light blue is an alternative options which would still work well.
Black Bomber Jacket
Another easy colour to wear, a black bomber will work with anything once again. You can go for a contrasting colour such as white, or go for a more tonal outfit choice and go for the all black look with a black tee or shirt, and black jeans.
For the image above, I've picked out the jacket in black with black jeans, but teamed it with a white graphic t shirt.
Grey Bomber Jacket
Different shades of grey work well with a nice number of colours. There's the choice of wearing the classic staple colours with the grey to keep the look low key, with all colours working well.
Green Bomber Jacket
Wearing a green colour bomber jacket could get some heads turning, it can be a powerful colour. You can opt to go for a more neutral green such as a military green or pastel hue, which is toned down but still a stand out colour.
I have picked out this green bomber jacket which has been styled with a plain white T Shirt and pair of black Converse hi tops.
Layering
Layering is a definite possibility when the weather is a bit on the cold side. Teaming with a tee, sweatshirt and on the lower half pair of neutral colour chinos will work extremely well, or for an even more casual look, a hooded top.
Bomber Jacket Materials
What is a bomber jacket made from?
A bomber jacket is either made from Cotton, Polyester, Nylon or a mix. As mentioned above, you can get them made of all materials, from leather to wool.
But we're looking at the classic variety which you may want to buy, rather than variants mentioned. There's a few materials you'll come across.
Cotton
The first thing to know about cotton is that it's not all created equally. There's a huge variation of the textures and types of cotton which can be used. A great example of typical material used is what's know as "sweatshirt material".
This is exactly how it sounds, the same cotton used in sweatshirts. Fairly heavy, it's a really nice material for this.
Pros
It's light and soft
It has a smarter finish
Good for layering
Cons
It's not waterproof
It could be too light
Polyester/Poly-cotton
Polyester or a Poly-cotton blend is a great choice for a bomber. These are usually water resistant, and it's a mix of materials which you'll find a lot of menswear brands use in their options.
It's still light, but not as soft as the sweatshirt material option, but is seen more of an outdoor kind of jacket thanks to it's properties.
Pros
Quite light and quite soft
Can be more on the casual side
Water resistant
Cons
Not as soft/smart as cotton
Not completely waterproof
It's usually not something you'd layer
Nylon
This is just a personal style kind of thing, but I hate nylon! However, if you're looking for a waterproof bomber jacket, this is the material to go for.
Perfect for tackling all weather including rain and the wetter seasons, they also make a great choice as a jacket for a festival.
They are the lightest options of them all, and are a fine and thin material.
Pros
Waterproof
The lightest option
Very casual
Cons
Not very smart
A really thin and cheap feel
Frequently Asked Questions
Is A Bomber Jacket Warm?
Yes and no. It will depend on what it's made from. A thicker material is obviously warmer, while the thinner nylon material ones aren't. They're usually suitably warm enough for most weather in the UK, excluding Winter.
Summary: How To Wear A Bomber Jacket
A bomber jacket can be worn as a smart casual, or casual piece
Wear colours which compliment your bomber jacket
Staple colours such as grey, black and navy bomber jackets are more versatile
T-Shirts, Sweatshirts, Shirts, And Jeans are great pieces to style with a bomber jacket
A Bomber jacket should fit close to the body, with a hip length
Verdict
Wearing a bomber jacket is an essential piece of clothing for guys to have in your wardrobe. If you're looking for a transitional jacket from season to season, a bomber jacket is for you. They'll keep you warm or dry, and are comfortable which can be edging on smart casual.
It's a Swiss army knife of outerwear, and it's an item of clothing you should have in your wardrobe.
With so many styles, colours and menswear brands available, there's never a shortage of choice for this much loved and essential piece of menswear.
You can see what to wear with this and get more fashion tips on the blog, with other style guides on what to wear and how to wear your current clothing.