How To Wear Women's Sweater Vest With Fashion Clothes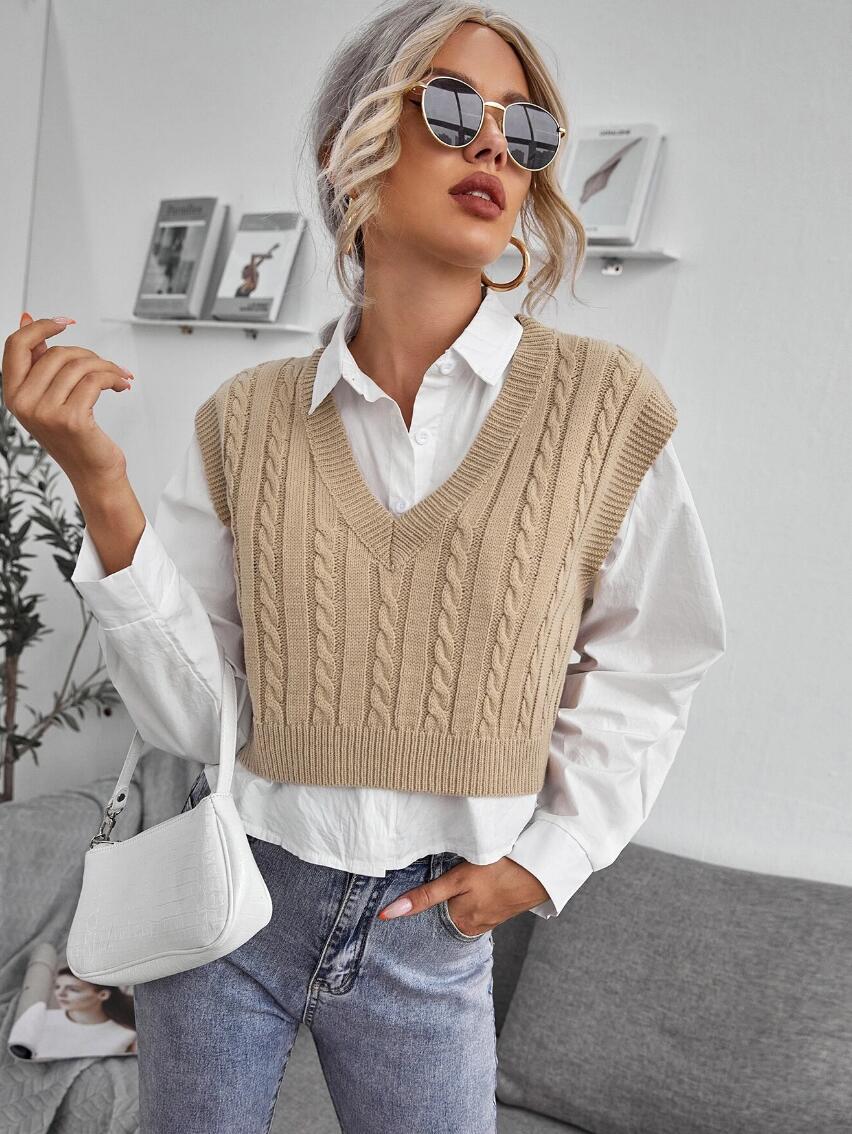 A sweater vest is a knitted vest top usually worn over another top to add warmth or style. In U.K. English it is known as a tank top and it's a garment that was originally popular in the 70's. The latest range of sweater vests is pretty wide and there's a sweater vest style to suit most fashion tribes. Although I can't see Goths wearing them, as sweater vests weren't invented until after the Victorian era, which is the main time-period of inspiration for Goths! But there will be sweater vests for every other fashion group, including Emos, Alternative Scene, Punks, Edgy Street, Chic, Work, Ragged jeans and every other style. So if you're excited about wearing sweater vests, here's how to look great in one all year round!
All year round sweater vest wear is 'in'
Q: Are sweater vests still in this year?
A: The answer is absolutely "YES". Celebrities just like Kendall Jenner and Rihanna, they love sweater vest very much! Sweater vests are easier to style than you might think.
The sweater-vest is another fashion piece we've pinched from the menswear closet and it is definitely a fashion-favorite for autumn, winter, spring and summer. Not everyone lives in a climate that has hot and sunny summers and a shirt with a sweater vest added can be just what you need on a cool summer's day! And with the recent resurgence of popularity for layering, the sweater vest is a fabulous way to give new life to your current wardrobe of blouses, shirts and tops.
And if you like a preppy look, an old-style button-up knitted vest, something chic, an oversized vest, a cropped vest, a plain vest or a patterned style, there will be plenty of interesting new sweater vests to wear this year!
What color sweater vests are in fashion?
Black, gray, red, purple, brown, burgundy, dark-blue, tan, mustard yellow, forest-green, olive-green, beige, khaki and white are the winter colors for this year. Plus sweater vests with a contrasting color line or two, decorating the V-neckline, the arm-holes and the hem. And as it is a classic garment for boys and men to wear, if you can't find what you want in your local fashion shops, have a look at the menswear department for boys or men's sizes.
Sweater vests can be styled in many different ways to suit your fashion style, figure and personal preference:
Contemporary trends for wearing sweater vests
Rather than 'mix and match', fashion has moved into a phase of 'contrast, complement or clash' where patterns and prints are concerned. So you could wear checked, beige, camel and brown Burberry shirt with a Gucci-type sweater vest covered in an all-over pattern. And to balance the mixed prints on the top, you can wear khaki, beige or brown jeans or pants. You should also keep your accessories low-key and wear a tan handbag with beige or brown shoes. Or choose a brightly colored shoulder bag in yellow.
Trendy patterned sweater vests
There are simple to put together styles like this to wear for work or leisure activities – a white buttoned shirt looks great with an oversized navy sweater vest with a lighter blue diamond-pattern across the chest, plus medium- or light-wash jeans and a navy shoulder bag. And there are psychedelic prints in the retro-70's style, for those who love to recreate the authentic retro look by wearing high-waisted, flared jeans, a fitted shirt and a sweater vest that stops at the waist.
You can always create a minimalist style with a plain sweater vest and a white blouse or shirt, worn with dress trousers for a sophisticated look. And if you love abstract patterns and quirky prints in unexpected and bright colors, look out for Scandinavian sweater vests.
Cropped sweater vests
There are two major sizing/fit changes this year to suit the new trends. The first change is cropped tops, tee-shirts and cardigans. This new trend is connected with high-waisted jeans and skirts, and for paper-bag pants with a ruffled waistline. Both of these new retro-styles look best with a short top that shows off the trendy high or ruffled waist feature. So you should be wearing close-fitting, cropped sweater vests with these fashion styles.
And the other cropped top trend is for wider-fitting sweater vests, which also stop short of the waist, so you can wear these with high-waist jeans or paper-bag pants, too. Wider-fit sweater vests are great for balancing out the extra width of wide-leg styles, like palazzo pants, jogging bottoms, flares, bell-bottoms and baggy jeans. And you can get a nicely defined waist with these outfits, too, as long as you have a curvy, pear-shape or hourglass figure.
Oversized fashion clothes trend
The other 'fitting' trend for this year is the return of oversized clothes, so there are extra-large sweater vest styles made to fit this trend. And if you can't find what you want in the women's department, you'll easily find large sweater vests in the men's section. Wear a white shirt with an oversized black and white dog-tooth check sweater vest with beige bands around the neck, arm-holes and hem. And team it with black straight-leg or boot-cut jeans for a smart-casual look.
Wear a sweater vest over an oversized shirt
Put a sweater vest over a long, oversized shirt and make it into a dress outfit. You can always add matching color or black, opaque tights if the weather is cool. In particular, the trend for check and plaid flannel shirts lends itself to this fashion trick, which is feminine and cozy in cold weather. Complete a casual look with sneakers or make it more chic with ankle boots. Wear biker shorts underneath if you haven't got a long enough shirt available.
This vest outfit looks best with chunky jewelry and of course, the color combinations can be varied to get a fresh look every time. For example, wear a pale blue shirt with a white sweater vest for classic style. Or try new color combos like a pale pink blouse with a yellow sweater vest, or raspberry pink with a purple vest and wear beige, camel or khaki bottoms to balance the color palette.
Wear a sweater vest over a dress
I've worn sweater vests in the past with flowing blouses and crisp white cotton shirts, but never over a dress. And I think it's a great new idea that you can try out immediately with several of your day-dresses. This is another way to get more wear out of dresses throughout the year, instead of following the idea of having sets of clothes you only wear in a particular season. So you can also layer a sweater vest over a floaty dress and add extra femininity with a pretty necklace.
Keep this outfit monochrome with a hot-pink handbag, a stylish pink sweater vest and a pale-pink dress. The summer colors are cute pastel colors, like lavender, baby-blue, shell-pink, soft yellow, peachy-orange, soft moss-green and all shades of brown, including khaki, cream, sand, beige and white. So you can choose which color you prefer for a summer monochrome, sweater-vest outfit.
Sweater vests and shorts
Whether you wear denim shorts, bike shorts or flowery feminine shorts, you can easily add a trendy sweater vest that suits your style. Layering is the key to getting the best look and with flowery shorts you can wear a short sleeved shirt and a crocheted sweater vest for a vintage, 'country vibe'. Then if you add urban ankle boots you'll have an interesting and chic contrast, or sneakers for a totally casual look.
Be cool in a skirt and sweater vest
Wear your sweater vests alone with no shirt or tee-shirt underneath in warmer weather, along with your favorite jeans, skirt or pants. Sweater vests can be worn with lots of skirt styles, including pencil skirts and a shirt for office wear. And the new, pleated, plaid tennis skirts are perfect for wearing with a round-neck sweater vest to make a cute, preppy look.
Of course, there are many black, faux-leather skirts around right now and you can certainly add a sweater vest to this look. As the leather skirt is a formal garment, wear a blouse or shirt in white or cream under your sweater vest, for a chic vibe.
Mixing fashion categories
Don't feel you have to wear only one fashion style all the way through your sweater vest outfit. Mix up your fashion categories to get this year's new experimental looks. But don't go overboard. So if you want to wear a casual athleisure look, wear jogging bottoms, a sporty hat and sneakers – which are all casual items – and then add one formal garment, the sweater vest. This keeps things balanced – like this outfit idea for leggings mixed with an oversize blazer. Wear with a shirt with a collar, a sweater vest and ankle boots. It's a mainly formal look, which can take the leggings as a modern twist on a classic style.
All year round fashion clothes
Sweater vests are a great way to add extra color, layering, texture or pattern to any outfit. And we can all use them to pep-up dresses and other garments we don't wear all year round. The fashion designers have announced that from this year, they aren't going to continue with the traditional four season designs and fashion shows. Instead, the focus is going to be on producing just two major fashion shows each year.
And this is to encourage everyone to get more wear out of the clothes they already have, or buy in the future. By layering-up summer clothes to make them warmer, we can get more use out of them before they go out of fashion. So bringing back the sweater vest is a pretty good way to help us buy less, and wear more in order to help the planet in general and still have lots of different styling options!