10 E-Commerce Shipping Best Practices You Should Know
The importance of a quality shipping experience in e-commerce cannot be stressed enough. This is primarily due to the fact that the post-purchase (shipping + delivery) takes up 50% of the overall delivery experience. 
However, major e-commerce businesses leave out shipping in their strategy as they consider the onus of it to be with the shipping carrier. You need to make sure that you don't be like them because your customers will still blame you for shipping issues.
40% of the customers will stop doing business with you after one bad customer service experience, which can often be due to shipping-related issues.
Thus, make sure you understand and follow these 10 best practices when it comes to e-commerce shipping.
1. Enforce a shipping strategy with a well-planned team
As an e-commerce business owner, strategizing and having clear goals will give you the right direction to your shipping game.
If your goal is increasing your customer base then focus on expanding your shipping to different markets.

If it is increasing conversion rates, then look at what is happening at checkout and offer services like free shipping and discounts. 
Whatever your goal may be, have a team to execute this. 
Make sure your marketing team is sending the right kind of messages. If you want more customers, then they have to expand their strategies as well. Having clear messaging about discounts, sales, and other benefits is essential to improving conversion rates. 
The design team can take a closer look at how effective the web pages are and edit them accordingly. Your conversion rates can increase by 35% if you just change the design of your checkout page. 
Train your customer service teams to interact with empathy and focus on solving customer issues. You must also have a robust fulfillment team that makes sure the shipment's journey from order placed to delivery is smooth. 
2. Offer free shipping options
61% of customers would abandon the carts if the additional fees such as taxes and shipping costs are too high. This is reasoning enough for you to consider free shipping.
However, are you wondering about your e-commerce business' profit margins if your overhead costs become too much? Then provide free shipping but with a plan. 
All your fellow competitors and market leaders do this. A minimum purchase order and after this shipping is free. Iloveplum even increased its average order value by 91% providing free shipping. 
Make this clear on your website through the customer's journey so they know free shipping is in their control. 
3. Be transparent and provide shipping costs upfront
The next thing to free shipping in e-commerce to make your customers happy is being transparent. 
Provide options at the beginning of their shopping experience to know the cost of shipping to their location. Ask them to enter their ZIP code and give them details. 
This saves them from being surprised during checkout. Maintain a flat shipping rate so they know you are not adding additional costs. They may feel cheated with surprise charges at the end. You don't want anyone associating your brand with such emotions. 
4. Let them choose the shipping option
We know now that customers want free shipping and transparency. You can make this experience better for them with shipping options. 
If they choose the kind of e-commerce shipping they want, you are putting them in charge. Whether they want to pay a little extra for early delivery or wait longer with lesser shipping – these options will help reduce the chances of cart abandonment. 
5. Leverage a chatbot to improve customer experience
Chatbots are an indispensable tool for customer experience when it comes to e-commerce shipping. They provide service with the quickness and efficiency that is otherwise lacking. 
Using chatbots to improve your user's journey can be a great tool to improve conversion rates too. 
It can help customers navigate the website and answer questions with ease. It could recommend products and increase AOV. It could even provide exclusive discounts if a customer is close to abandoning their carts. 
Even post shipping, customers don't have to go around looking for tracking details if a chatbot can do it for them with a simple question. It can provide them with live tracking data and understand where their package is at all times. 
6. Provide multi-channel customer support
Whether your employees are attending to the customers or a chatbot – either way, the customer should have a good e-commerce shipping experience. And one of the ways to do that is to have a multi-channel approach. 
Here are some customer service trends during BFCM 21.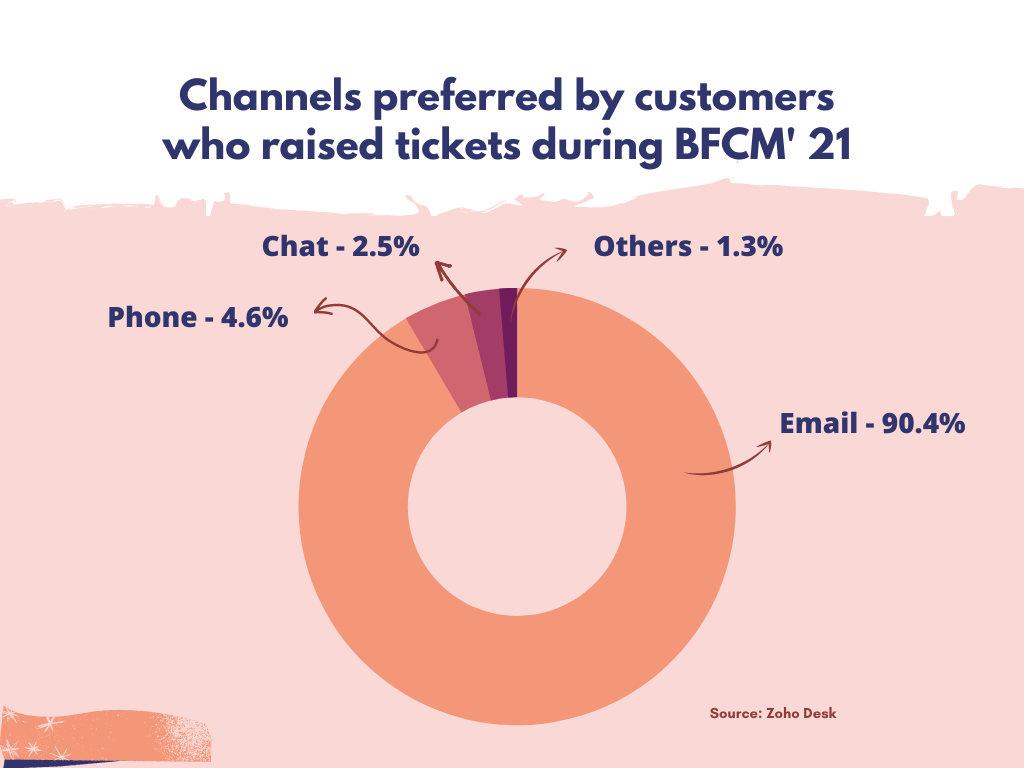 Wherever they are trying to reach you, ensure you respond in a timely way. Maybe they are taking a concern to a social media platform because your internal team failed to provide a satisfactory resolution. Or maybe they didn't even respond. 
Make sure your team is organized and equipped to provide good customer support and understands that every customer has unique demands. Your reputation and brand loyalty can be at stake if something goes wrong. Pay heed to the customer! 
7. Make order tracking easy for your customers
Several times logistics are given over to a third party. However, you must still provide customers with personalized information about you and them. The emails, messages, and notifications must have your branding and accurate details. 
After making a purchase, especially if it's the first time, customers can be apprehensive. But, providing tracking details to them before they even ask you for it, can ease their worries. 
From which city is the package currently, the expected arrival date and information about any delays are imperative in providing a positive delivery experience.
82% of customers expect constant communication from brands about the delivery service at every fulfillment stage. With this, you will also increase the retention rate as well!
8. Use a shipping software to manage end to end processes
As your business expands, it becomes increasingly difficult to manage tasks without an end to end fulfillment software. It also makes sense to automate regular tasks and put them on an almost autopilot mode. This way you can take care of expanding your business. 
Good software for shipping can help right from collating orders from multiple channels to ensuring smooth exchange and returns. 
Choose a software that can help you keep a track of orders, generates shipping labels, produces invoices, provides self-return options, handles failed deliveries, gives tracking details, and other features that are important to your business. Choose the shipping software that meets your goals and pricing requirements.
9. Ensure packaging with care
When customers receive a package, it should make them happy. Packaging is part of that experience. 
You might have budget constraints to personalize the packaging. But, you can still make sure the products are packaged with care. They should be able to sustain shipping without damaging the goods. In case they do receive damaged products, make sure your customer support team is on track to help them get a replacement. 
Another way to improve packaging while staying within budget is to include small inserts in the packaging as a surprise for your customers. This can be a simple thank you note, a discount code for the next shopping, or a free sample.
10. Enhance the post-purchase experience
If you want customers to shop again from you, then you have to focus on the post-purchasing experience. 
Interact with them through emails, SMS, and calls to understand their experience with the brand. 
This lets them know you care about their interaction with you. It can give you valuable insights on how to improve your e-commerce shipping and customer experience. 
Providing them with forms to answer questions to rate their experience can be a great way to build your Net Promoter Score (NPS). You can also build a repository of reviews through this initiative. You can also stay in touch with your customers through emails, newsletters, notifying them about sales and so much more! 
These are some of the best practices you should implement in your strategy to provide the best e-commerce shipping experience for your customers. Understand how each one can make an impact on your brand in the long term and its implications on customer retention. 
Prioritize those you can implement soonest and start from there. Ensure your customers are the primary factors in these decisions and you will see results from implementing such best practices.
This is a guest post by Oliver Thyra. 
Oliver Thyra is the head SaaS copywriter and content strategist at Your Marketing Digest. His intense passion for marketing and his engineering background in software engineering has made him a guy who understands how to sell software subscriptions with words. In his free time, Oliver enjoys quality time with his pets (he has got 4 golden retrievers!). 
The post 10 E-Commerce Shipping Best Practices You Should Know appeared first on Lateshipment.com Blog.