20 Homemade Hair Treatments for Dry, Dull or Frizzy Hair
Let's face it: Few of us are blessed enough to wake up with perfectly smooth, de-frizzed hair that cooperates with our styling efforts. Dry, dull and frizzy hair is common, but not something we should have to deal with. 
"Hair becomes dry when your natural oils don't get to the ends of your hair," explains Daniel Koye, a licensed cosmetologist and hairstylist who works in theatre, film, and television. Dry hair is often the result of overuse of hot styling tools or environmental factors and, luckily, can be handled with a few changes in routine.
For starters, we can check to make sure our styling tools aren't at the hottest setting and avoid overuse of dry shampoo, which can make the hair look dry, according to New York City trichologist and hairstylist Penny James, IAT. "Poor diet will also lead to dull, dry hair, so make sure you are eating well—lots of protein—and taking vitamin D 2000 iu per day," she says.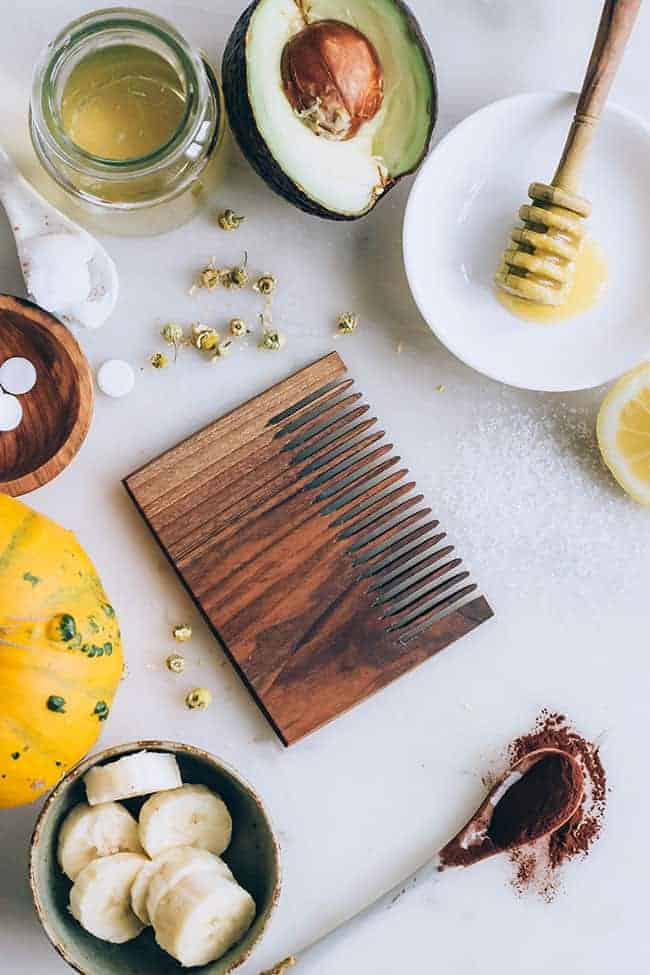 20 Homemade Hair Treatments
In the meantime, here are some tried-and-true at-home hair solutions for dry, dull or frizzy hair. You can make these easy DIY hair masks with simple ingredients you probably already have in your kitchen.
Need to moisturize?

1. Avocado
For clients with thick and coarse hair, Jennifer Matos, stylist at Rita Hazan, likes to use a mask containing avocado, coconut oil and honey. "Avocados are a great source of biotin, potassium and magnesium, which help seal cuticle cells, prevent breakage and the hair will look smooth and shiny," she says.
Mash up half an avocado and add a couple of drops of peppermint essential oil. Shampoo hair, squeeze out the water, and apply the hair mask. Let it sit for 15-30 minutes and then rinse. "This type of mask can be applied once a week before shampooing your hair," says Matsos. "Rinse out the mask in shower, then shampoo and condition as normal."
Not only did my hair came out super soft—not flat or greasy at all—but the added scent made sitting around with green goop on your head much more pleasant.
If you're not worried about weighing down your hair, you can amp up the avocado mask moisture by adding 1–2 tablespoons of oil, egg yolk, or yogurt.
2. Coconut Oil
The wonders of coconut oil never cease! This oil is heavy, which is great for penetrating deep into the hair shaft, but use it sparingly, especially if you have fine or thin hair.
"Coconut oil strengthens and protects the protein bonds of fine hair by strengthening the protein bonds, attracting moisture elements, and sealing those elements thus providing elasticity," says Bridgette Hill, certified trichologist and founder of Root Cause Scalp Analysis. "When used conservatively on the lengths of hair, it protects strands from chlorine and salt when swimming."
Take a small amount of coconut oil, rub it between your hands, and apply just to the ends of damp hair. If the oil is in the solid form, just warm it in the microwave for about 10 seconds until it becomes liquid, and let it cool a bit before touching it (be careful because it can get VERY hot).
Got really dry hair? Keep the oil on overnight and shampoo out in the morning.

3. Banana + Olive Oil
Not only can bananas work their magic on your feet, but they are awesome for your hair! Mix a banana with 1 tablespoon of organic extra virgin olive oil and mash thoroughly until the banana is pureed.
You definitely want a super smooth smoothie-like texture, so you don't end up with banana chunks in your hair. Then massage into your hair and scalp. Leave the treatment on for 30 minutes, then rinse thoroughly and shampoo.

4. Pumpkin + Honey
This could be the perfect use for canned pumpkin puree leftovers (because there are always leftovers). Pumpkins have lots of amazing benefits—they're rich in vitamins A and C, beta-carotene, potassium, and zinc [source].
Add 1–2 tablespoons of honey, a natural humectant, to one cup of pumpkin puree, and pack as much as you can onto your hair and scalp. You'll need to either wrap your hair in saran wrap or wear a shower cap to keep the mask in place.
Let it sit for at least 15 minutes and then rinse. Feel free to apply to your face as well!

5. Yogurt
Yogurt is naturally high in healthy fats and proteins, which will leave your hair super shiny and loaded with maximum moisture. There are a lot of options out there when it comes to yogurt, but it's best to opt for the high-protein, low-sugar, plain variety (no fruit additives).
Protein strengthens the hair shaft, which prevents split ends and hair damage. And sugar is a no-no if you want to keep yeast and flakes at bay.
Gina Rivera, Celebrity Stylist and Founder of Phenix Salon Suites, recommends soaking your hair and massaging in one cup of plain yogurt. "Put on a shower cap and let it sit for 30 minutes and then wash and condition with your favorite professional product," she says. "I recommend the Pure BioGen Complex wetline because it's packed with biotin, collagen and nutrients."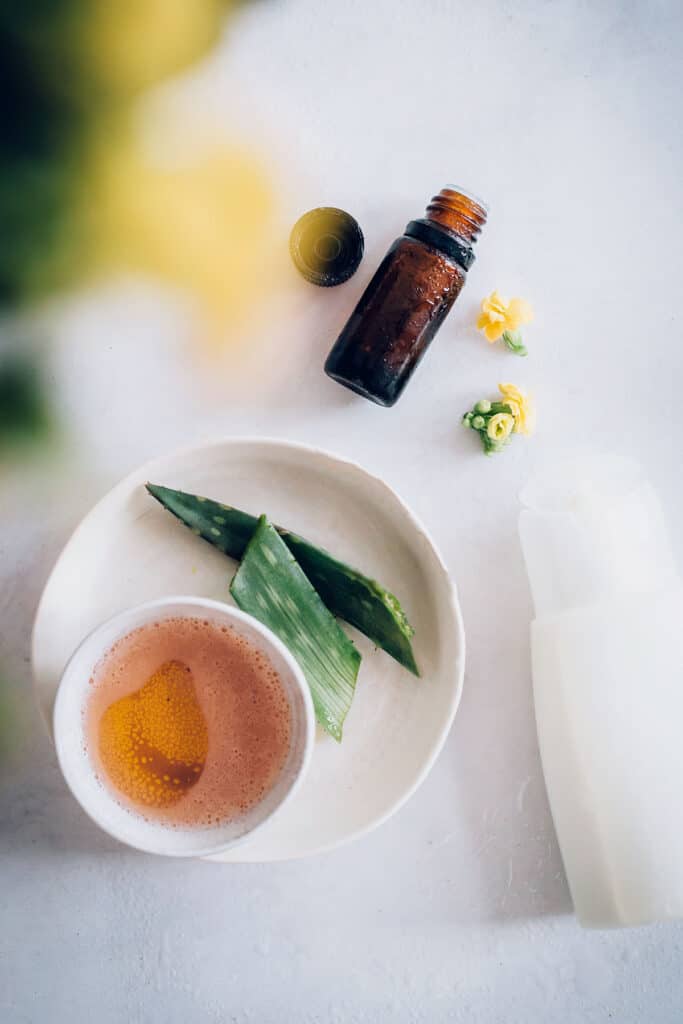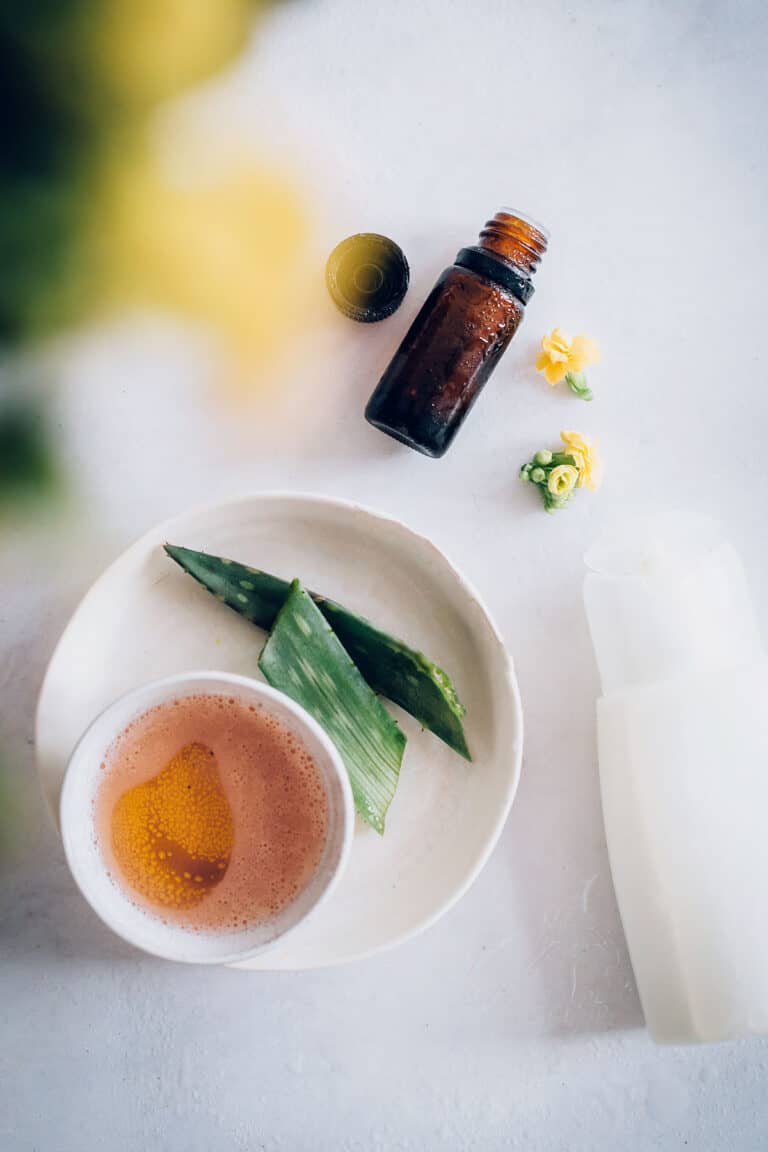 6. Aloe Vera
We use aloe vera all the time in natural healing remedies, but did you know that aloe also works wonders as a homemade hair treatment? Aloe vera is a great natural conditioner that leaves hair feeling smooth and shiny. It's also a great leave-in product when applied to damp hair that is primarily air dried. "I have found that aloe vera performs best on hair that is air dried to experience the shine and softness this plant has to offer," says Hill.

Applying it directly to locks helps promote hair growth, reduces irritation (such as dandruff), and conditions your hair. I like to add a little cedarwood oil to enhance circulation in the scalp, thus promoting healthy growth and slowing hair loss.
Mix two teaspoons of fresh aloe vera gel or store-bought aloe with 3 drops of cedarwood essential oil. Massage into your hair and let it rest for half an hour. Shampoo and condition as usual.
Need a color boost?

7. Cocoa powder
Give brown hair a boost with cocoa powder. For a stay-at-home DIY with safe ingredients, try a combination of cacao powder, plain yogurt, honey, and apple cider vinegar to give you a deeper, richer brown. I couldn't test this one personally, but if you can make bronzer lotion with cocoa powder, why not try it in your hair?
8. Lemon + Chamomile
To warm up ashy blonde hair, try lemon and chamomile herbal tea. Both have long been used as whitening agents for blonde hair. You can do a simple rinse by tilting your head back over the sink and pouring a cup of cooled tea combined with the juice of a lemon over clean, wet hair. Let sit for about 5 minutes and rinse.
I also tried this brightening mask that combines egg yolk and lemon with grated potato. Yes, potato! Shampoo, apply to hair, and blow dry your hair on low for 2–3 minutes. Then rinse and style. This ended up being more work than I'd want to do on a regular basis, but I loved how bright and shiny my hair ended up.

9. Purple Koolaid
Of all the homemade hair treatments I've tried, this one is by far my favorite. Are your blonde looks starting to look brassy? Just do a rinse with grape-flavored Kool-Aid to get rid of the dreaded orange.
This totally works! I have never had a problem with my hair turning purple (I have heavy blonde highlights, not all-over color), but if you do see a hint of color, just shampoo again.
10. Raw Honey
Honey has been used for years to naturally lighten hair and give it a soft, sun-kissed glow. Mix 4 tablespoons of raw honey with 1 tablespoon of water and apply to hair and scalp.
Pop on a shower cap and let it sit for an hour. Rinse the mixture out of your hair and shampoo, condition, and style as usual.
11. Walnut Powder
Not only do crushed walnut shells replenish vitamins and minerals in parched hair, but they're also said to darken locks and get rid of grays. Crush 10–15 walnut shells, and soak them in boiling water for 30 minutes. Cool the liquid completely. Then strain out the shells and apply the liquid to your hair using a cotton ball. Let it sit for at least an hour before rinsing.
Note: if you don't want to mess with the walnut shells, just buy pre-made walnut powder. Add 3 tablespoons of the powder to 3 cups of water, which is a good ratio for most people (but it depends on your starting color and how dark you're trying to make it), then you just boil it like you would the crushed shells.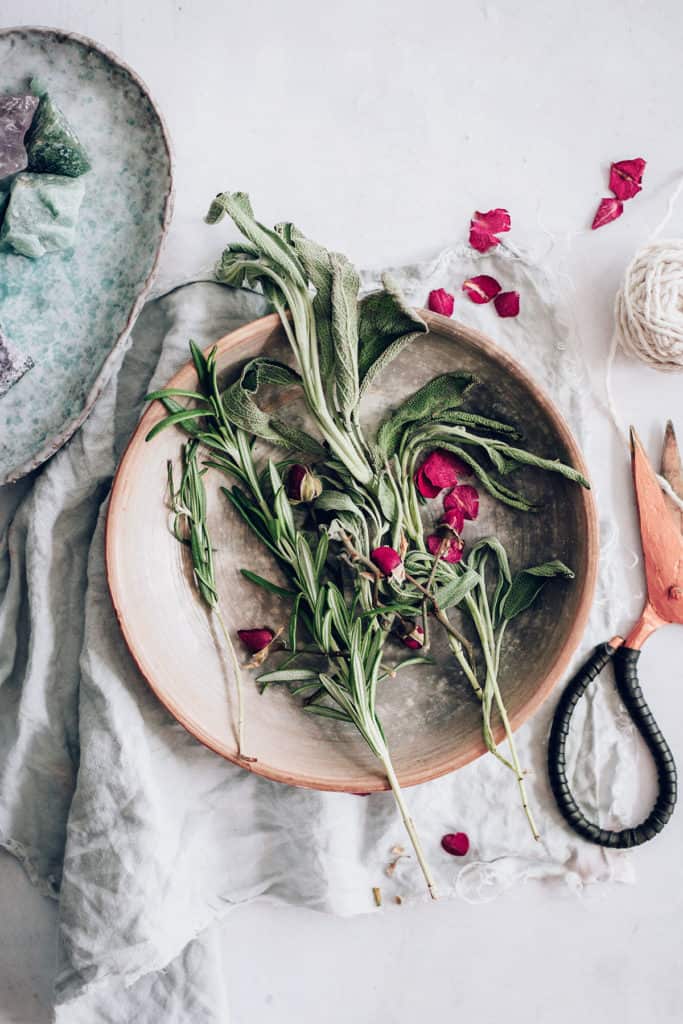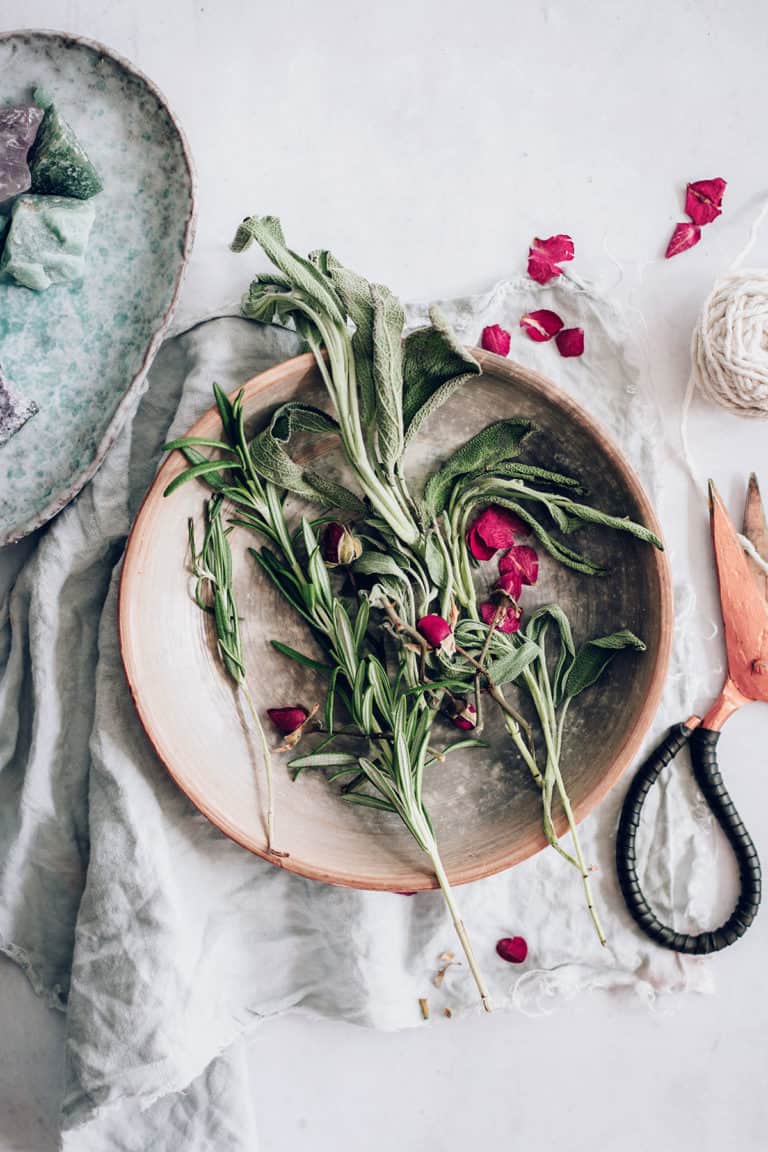 12. Sage
Although sage leaves are light green, tea made from this herb is said to gently darken hair. Simply boil 1/2 cup dry sage leaves in 2 cups of water for 20 minutes and let it cool.
Strain the leaves out, and pour the infusion onto your hair and let sit for 30 minutes before rinsing out. Do this daily until your hair darkens to the desired shade and then weekly to maintain the color.
Dull, frizzy hair?

13. Sugar water
If your hair is frizzy, try mixing a packet of granulated sugar (about a teaspoon or so) with a cup of water. Pour a bit into your palms then run your hands over dry hair. Your hair will get a slight bit of "crunch" and hold because you basically just made homemade hair spray!

14. Aspirin
Residue and product buildup will also dull your hair. The cure is as simple as crushing an aspirin into shampoo! Just add the aspirin powder to a small amount of shampoo and lather up. The salicylic acid in aspirin helps remove product buildup and restore the natural shine. You can do this every two weeks.
Another remedy: baking soda. Combine a handful of shampoo with 1–2 tablespoons of baking soda and massage into hair. Warning: I have used baking soda to intentionally strip out hair color (because the color was too dark), so don't use baking soda on recently colored hair.

15. Apple cider vinegar
An apple cider vinegar rinse helps clarify and smooth hair cuticles—the secret to shiny hair! "Apple cider vinegar neutralizes and supports the natural biome of the scalp and has antimicrobial properties and natural alpha hydroxy acids that encourage cellular turnover," says Hill.

Combine a tablespoon of vinegar with a 1/2 cup of water. Add a couple of drops of orange essential oil if the smell is too much, and pour over damp hair.
Comb through your hair, let it sit for five minutes, and then rinse. The acidity in the vinegar helps seal the outermost layer of your hair, the cuticle, making it lie flat and that brings back the shine.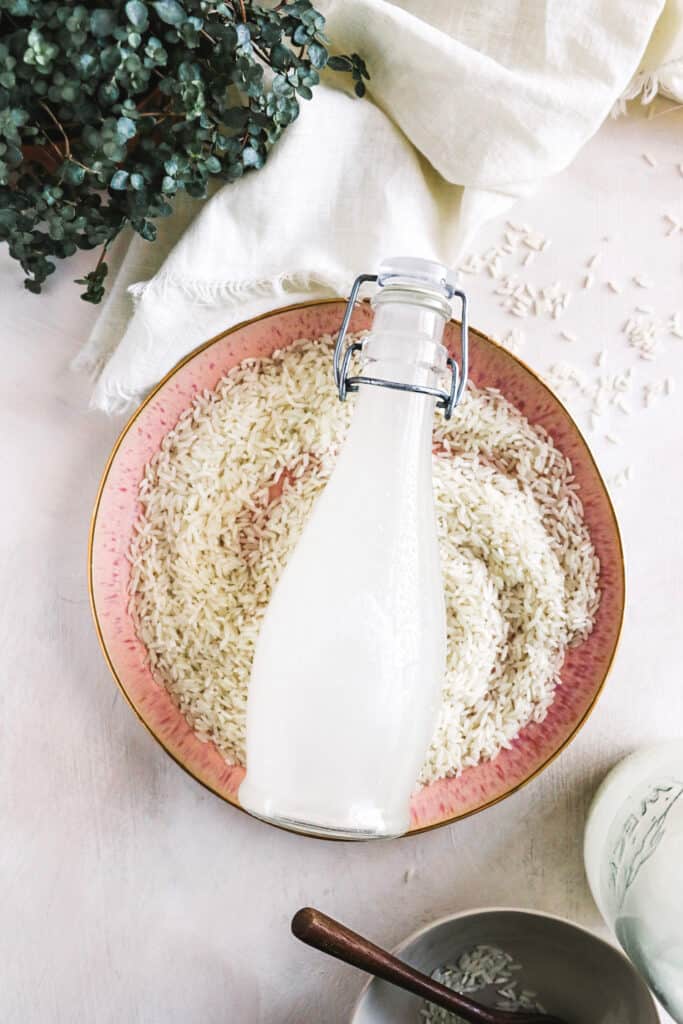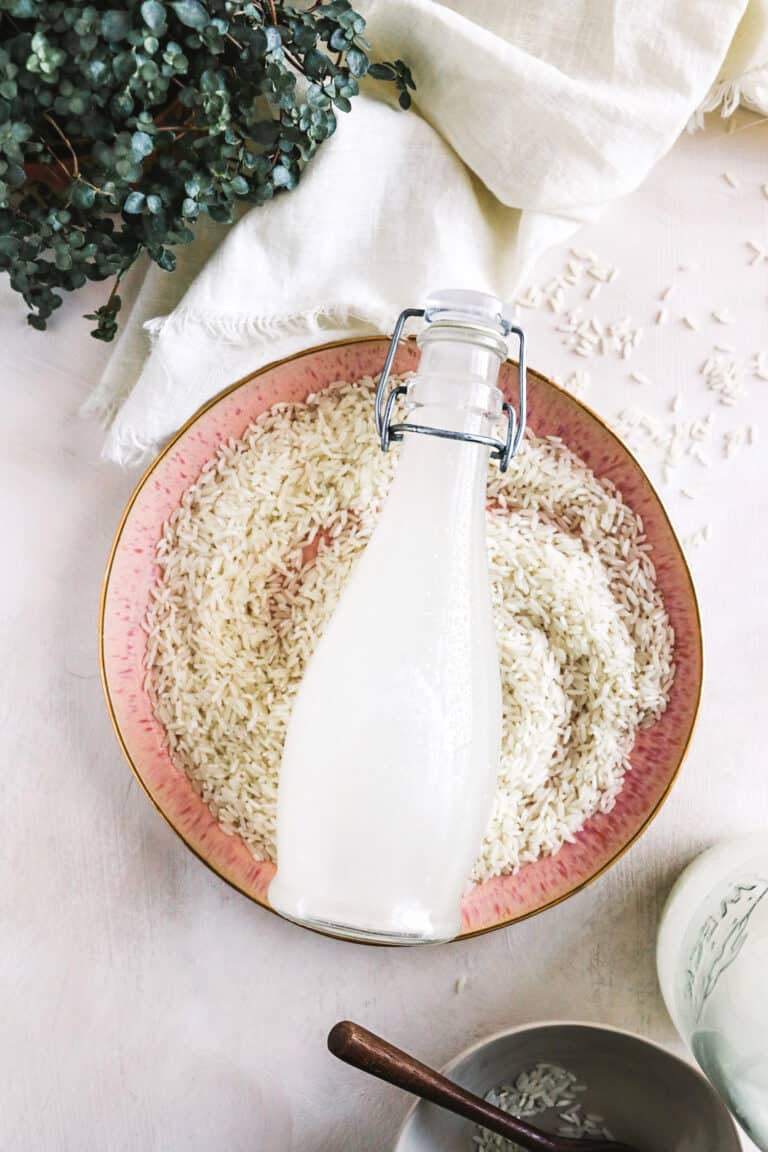 16. Rice water
Rice water has been used as a homemade hair treatment for centuries. Like the name suggests, this is just the starchy, nutrient-packed water left over after rice is cooked (or in some cases, soaked). It's loaded with vitamins, minerals, and starch, which is said to help strengthen hair, so it can grow longer and thicker without breaking.
Thoroughly rinse the rice (any rice will do, but I use plain white rice). Plan to cook it on the stove like you normally would, but with 2–3 extra cups of water that you can drain off at the end. When the rice is done cooking, pour the leftover water in a glass bottle, and store it in the bathroom for 3–4 days or in the fridge for up to a week.
Next time you take a shower, pour the rice water over your hair and let sit for 10–15 minutes before rinsing off.
17. Jojoba oil
Jojoba oil as a moisture treatment is good for dry hair because it works from the inside out, according to Rivera. "It's very similar to the sebum that your scalp naturally produces and best used as a hot oil treatment to infuse the hair," she says. "Just warm up ¼ cup and massage gently from scalp to roots through dry hair, wrap hair in a warm towel or shower cap and wait 30 minutes." Rinse out and shampoo twice. Condition as usual.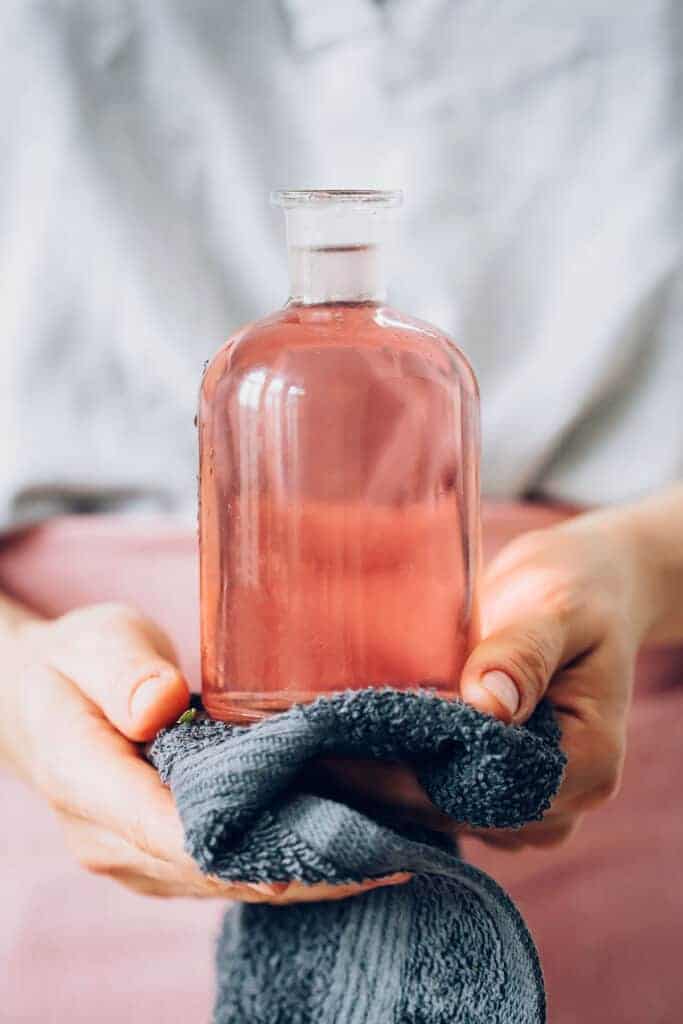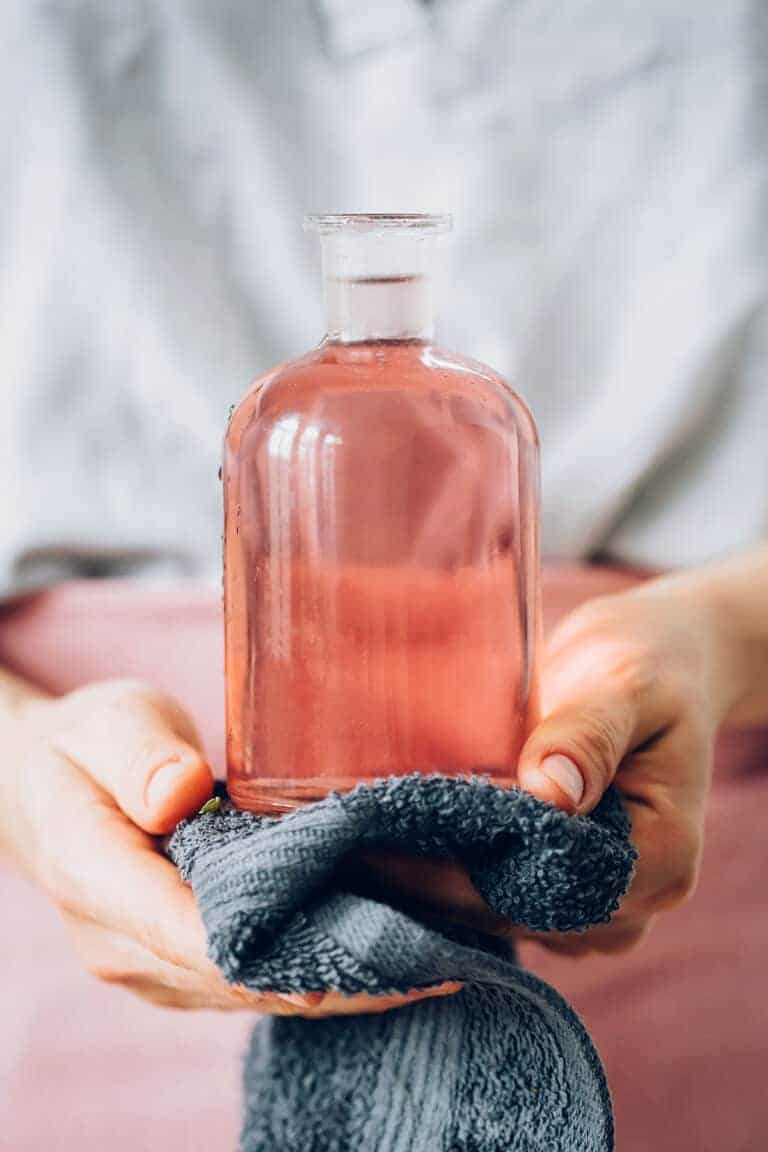 18. Rose Water
Rose water is said to stabilize the hair's pH balance, which in turn soothes scalp irritation and softens strands. Thanks to its antiseptic and anti-inflammatory properties [source], it can even lessen dandruff and nourish the scalp.
Pour rose water into a spray bottle and mist onto your hair anytime you want to decrease frizz. You can also apply rose water directly to the scalp using cotton swabs. To reduce dandruff and itching, gently massage it into the scalp and leave overnight.
Thinning hair?
19. Coconut Milk
As far as homemade hair treatments go, coconut milk is king. Its high fat content, proteins, and vitamin E nourish the hair from roots to ends, helping to restore thinning hair, split ends, and chemical and heat damage. It also works as a conditioner and detangler, thus reducing breakage and improving hair growth.
Add 2 teaspoons of fractionated coconut oil and ¼ cup full-fat coconut milk along with 2–3 tablespoons of water to thin it out a bit and mix. Add the mixture to an empty spray bottle. Replace the cap, shake to combine, and spritz generously on damp hair. Let sink in for 30–60 minutes and shampoo as usual.
You may also want to try these 9 homemade hair masks for thinning hair.
Split ends?
20. Witch hazel and glycerin overnight mask
Witch hazel improves scalp circulation, relieves irritation, and leaves your strands feeling soft [source] while glycerin, which is an emollient used in many cosmetics to lubricate, seals strands, makes hair look shiny, and leaves split ends less noticeable [source].
Just add in some biotin, also known as "vitamin H" for hair [source], and you've got yourself a hair-fortifying mask that encourages growth and strengthens strands.
Combine ¼ cup witch hazel, 1 tablespoon glycerin, and 1 biotin capsule in a small bowl and whisk until smooth. Apply to clean, dry hair. Comb through hair until strands are lightly coated but not soaking wet.
To protect your bed linens, wear a plastic hair cap, use an old pillowcase, or cover your pillowcase with a large towel (you might need to do all of the above). Rinse out the next morning and style as usual.
And why not check out our post on how to get rid of split ends naturally while you're at it.
Hair Mask FAQs
How do I get the mask remnants (like banana or pumpkin) out of my hair?
The smoother the homemade hair treatment when it goes on, the easier it will be to remove from your hair. For stickier substances, like banana and avocado, puree them thoroughly in a blender with a bit of oil prior to applying to hair. You can always try using banana or avocado baby food instead.
Can I replace olive oil with castor oil?
Yes! All the oils are interchangeable. If you have a particular hair or scalp issue, it's best to do a little research on the oil beforehand, but otherwise, feel free to swap in any oils you like.
Will these help get rid of product build-up on my scalp?
To avoid build-up, I recommend using baking soda as a scalp cleanser every month or so. Simply sprinkle straight baking soda on wet hair and massage into the scalp with your fingertips. Shampoo and condition as usual.
Can I leave these hair treatments in overnight?
Unless stated in the recipe, it's best not to leave hair products in overnight. Even natural ingredients can clog hair follicles or irritate the scalp, which will only make hair problems worse. I recommend leaving most treatments on for no longer than an hour and thoroughly shampooing the hair when you're done.
Will apple cider vinegar affect my hair color?
I'm not an expert, but according to Dr. Google, apple cider vinegar is safe for all hair types, even color-treated hair. ACV may even help to strengthen your hair by closing the cuticles and smoothing the hair shaft, thus sealing in color.
Have you tried any of these hair masks? What's your favorite homemade hair remedy?