Smart Shopping with Top Fashion Deals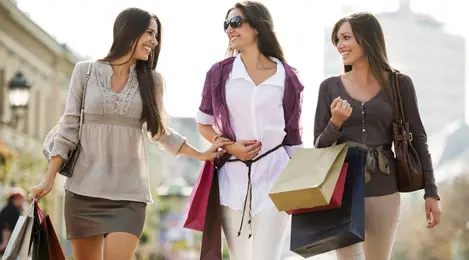 When we speak of smart shopping, it is not about shopping less, it is about making conscious decisions about where, what, and how you buy. Today we are going to discuss some smart shopping tips so you can buy from top fashion deals:
Set Aside a Budget
You can keep yourself from spending too much on clothing by setting a budget and staying within that amount. Set a monthly limit on clothes shopping and make sure that you follow it. Browse for articles that fall within your budget. If you have a hard time keeping track of your spending, you can use a budgeting tool that will alert you if you exceed your monthly limit.
Know Your Size & Measurement
Save your measurements on your phone such as waist, hip, chest, and shoulders. This would immensely help you with online shopping so you can compare your measurements with the brand's size chart.
Take it Slowly
You need to stay cool and be conscious. If you see something incredible, bookmark it. Avoid being an impulsive shopper. It's better to save the item in your wishlist and come back later on where there is a sale or discount going on. And if it is stuck on your mind even after a couple of days, it might be worth buying. It is wise that you stick to essentials only as it will help you resist being an impulsive shopper and avoid buying something only because on sale.
Need above Want
You should buy what you need, not what you want. Whenever you come across something that catches your interest and attention, ask yourself if you truly need it or just want to buy it. Go through your wardrobe every couple of months and make a list of items that you absolutely need. This way, you can differentiate your needs from your wants. So, whenever you shop, keep that list with you. Sometimes, it is alright to buy something for fun. However, make sure that you actually wear these clothes and not just wasting money buying them.
Use a Mood Board
A collection of different images of clothing is going to be your mood board. It helps in crafting your personal style and also serves as inspiration when you are shopping for clothes online. See the common factors between the images that you have selected. Do you find particular colours, styles, and textures more appealing than the others? Moreover, when you are selecting pieces, try to get them aligned with the mood board's overall style.
Money Mindfulness
It is easy to go on a shopping spree if all of your cash is in one place. Keep some money aside to get non-essentials so that you do not get lured in by discounts.
Shop during Off-season
Retailers have to move stock fast to make room for incoming trends. That's why the put up many items on discounts at end of season and flash sales. Apart from that, when you buy articles off season, you can get some excellent deals. You can buy swimwear in autumn and winter wear in summer/spring.
Look out for Sales
It is best to buy clothes on sale. If you really like an item, and it is on full price, wait for it to go on sale. It is going to save you lot of money in the long run. Also, it is wise to sign up for the mailing list of your favourite brand. You can also know about their weekly or monthly coupon codes and their upcoming sales. Shopping during sales and availing coupon codes and discounts let you save significantly. You can check out topfdeals.com to know about the ongoing and upcoming deals and discounts on your favourite brand.
Quality over Quantity
It is better to buy higher quality articles than cheap clothing. High-quality items are more expensive, but they will last a lot longer. It is better to spend money on an expensive sweater that will last for years than buying cheap shirts or tops that will fall apart after few wears.
Buy Less, Wear More
Before deciding to buy something, always ask yourself how many times you will wear it. As per fashion experts' advice, it should be no less than 30 wears per piece. Invest in timeless pieces so you get to wear lot.
Declutter and Donate
When you grow out of your clothes and have worn them enough, donate them. This would make room in your closet and you can buy others. Give away your unwanted clothes as one man's trash is another man's treasure. This lets you be a smarter and sustainable consumer.