The 2022 Holiday Season Retail Forecasts – Shop Early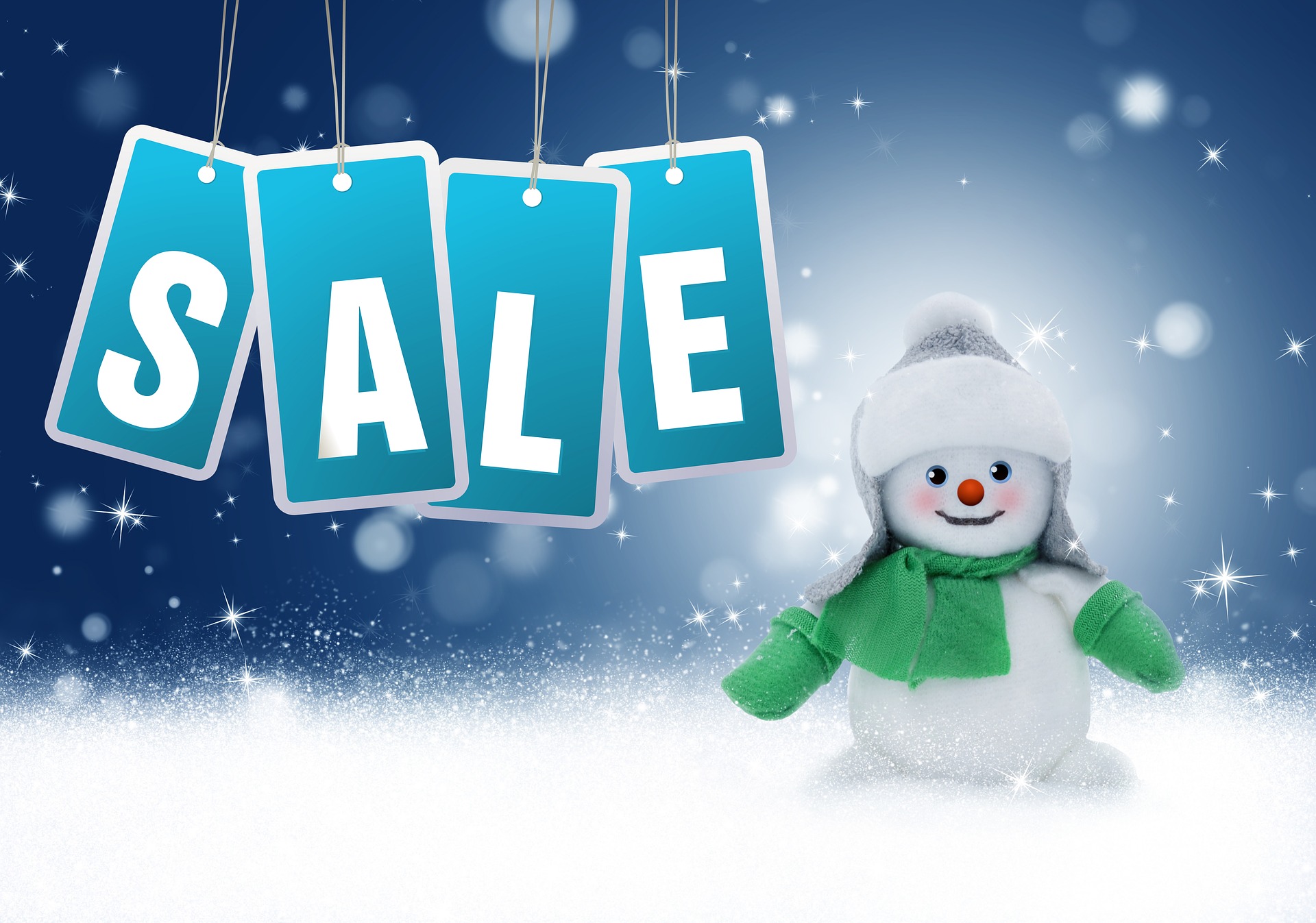 Even though it's only very early fall, it is beginning to look a lot like Christmas in many of the stores that we go. Santa must be anticipating a mad rush on limited supplies as multiple major retail chains already have their trees and trimmings out for sale. 
Typically, late summer and early fall is when all the retail holiday predictions are published. The key words that are bubbling up in this year's cloudy crystal ball are early, inflation, recession, discounts, and the continuing battle between physical and digital retail. Timing of the economic cycle will potentially lead to more winners than losers. 
COVID has moved to the rear-view mirror and it has been replaced by financial headwinds. "In fact, concerns related to COVID have decreased significantly, from 52% (in 2021) to 16% this year, while the financial concerns have surged 153%." It is now time for my annual summary of those prognostications, along with my own thoughts for Retail Holiday Season 2022. 
USA Holiday Sales Projected to Increase, But…
Bain & Company forecast that retail holiday sales will increase 7.5% this year, above the 10-year average of 5 percent. However, when you factor inflation, real growth will range from 1% to 3% below the 10-year average.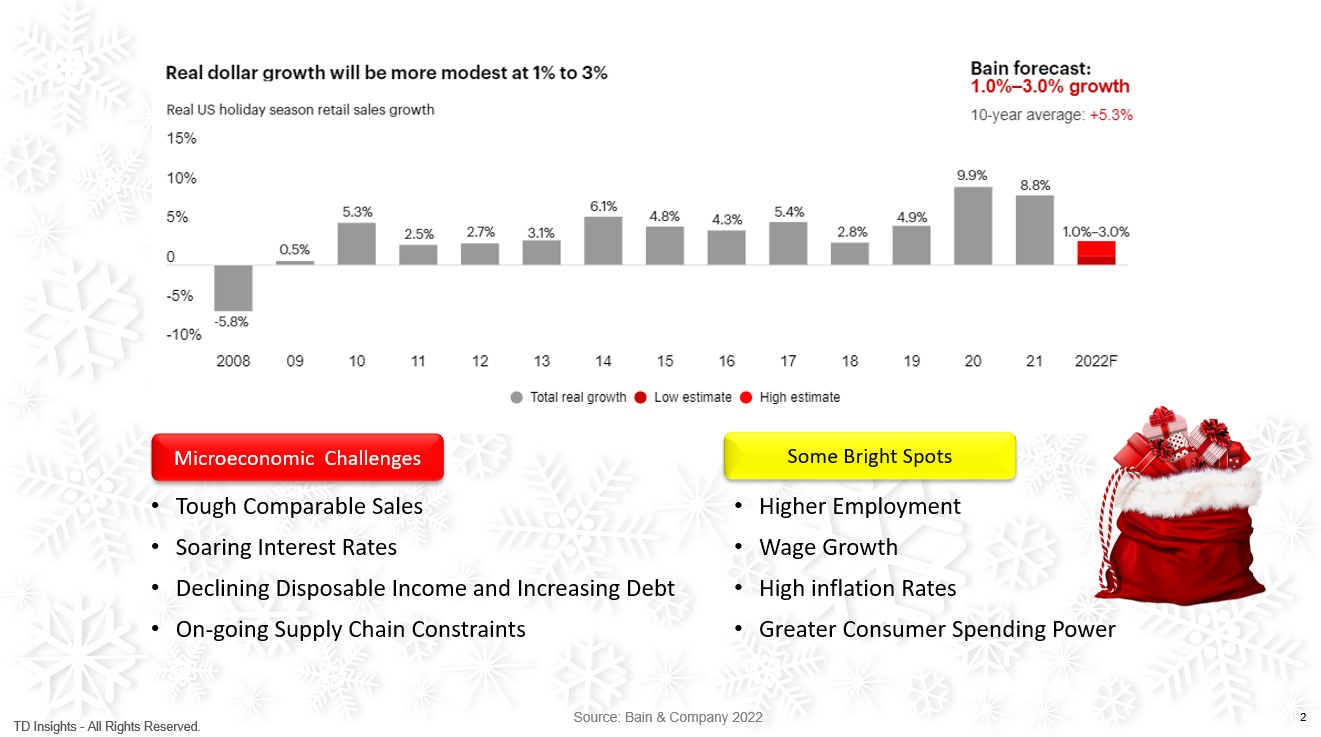 Total sales will reach $915 billion this year, with 72% taking place in physical stores. Individuals with income ranging from $50K-$100K plan to spend more this year versus 2021, while higher income individuals ($100K+) have less confidence in their spending in 2022. 
Comparable growth this year is tougher as last year Bain-defined holiday sales grew 13.2%, the highest in 30 years. Interest rate increases, higher debt, and on-going supply chain challenges are additional microeconomic headwinds. Unemployment at only 3.7% in August, wages growing 4.4% in the same month, inflation increasing nominal growth, and cash / checkable deposits being 3.8X pre-pandemic levels are the bright spots. 
Similar positive holiday forecast from Mastercard. Holiday sales excluding automotive, are projected to increase 7.1%, compared to their reported growth of 8.5% in 2021.  E-commerce growth continues to accelerate reaching nearly 19% of total retail sales.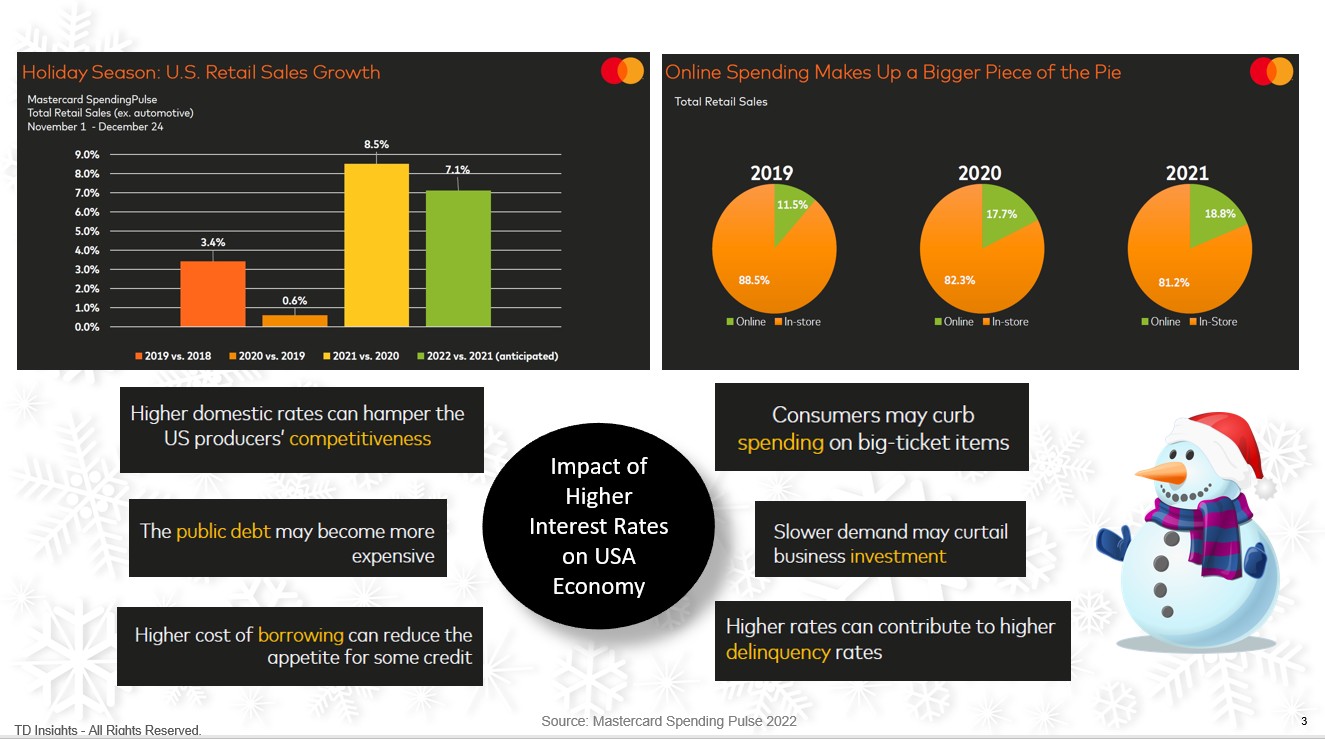 Mastercard predicts that physical store sales will increase 7.9% and reported that from January through August 2022 they represented 80% of total retail sales. Apparel and luxury lead the sales growth with 4.6% and 4.4%, respectively.  Higher interest rates continue to have a negative impact on the USA economy.
Salesforce.com projects that online global holiday retail sales will remain relatively flat reaching $1.12 trillion worldwide and $265 billion in USA. Digital sales will continue to dwarf pre-pandemic levels (up 55% globally and 61% in USA at a 30-year growth rate compared to 2019 sales).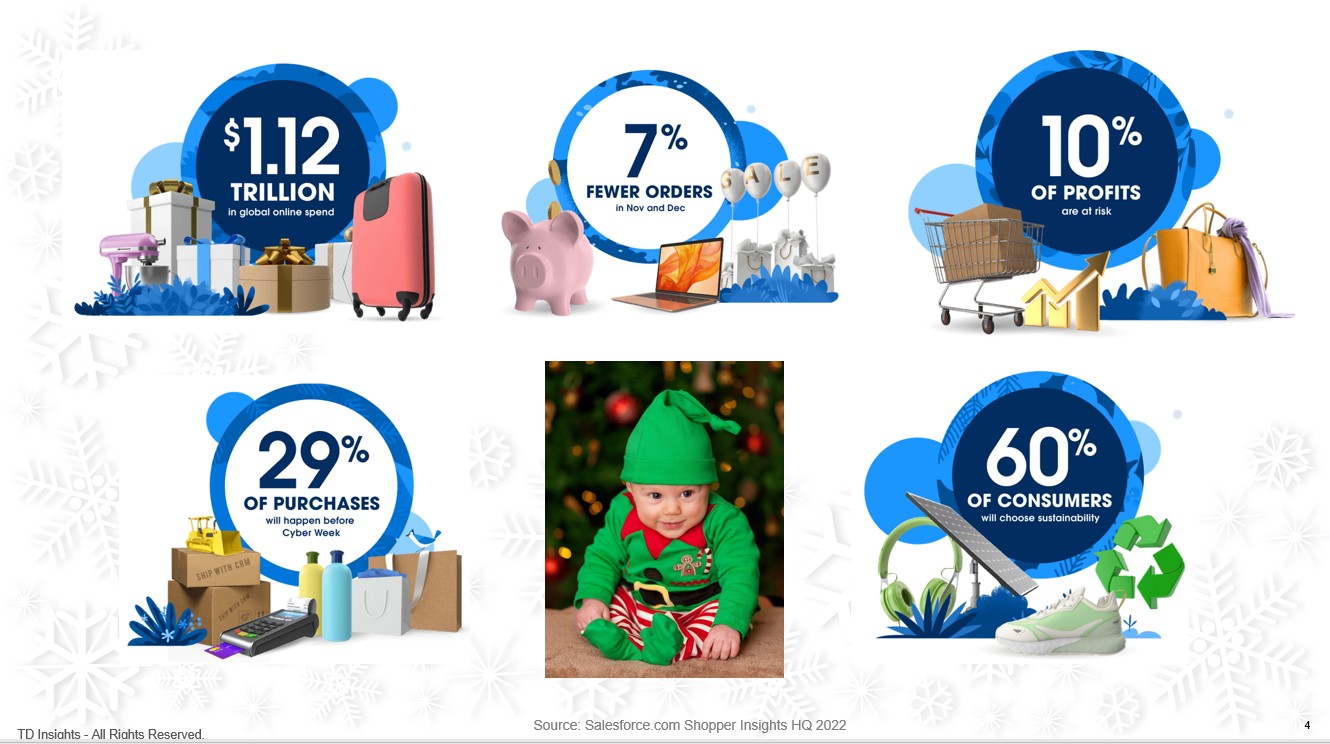 Inflation will negatively impact spending worldwide. While online prices grow 7% compared to 2021, and 15% compared to 2020, consumer's total online orders will drop 7% when compared to the 2021 holiday season (5% fewer in USA). Fully 10% of profits will be at risk this year because of increased costs from suppliers, labor and transportation as they outpace retailer's ability to pass onto consumers. 
Good news on sustainability as majority will seek this option this holiday season. Salesforce.com reports that despite this preference, only 23% of brands promote and offer sustainable options in the shopping journey. 
Deloitte forecasts that retail sales are liked to increase 4% to 6% in 2022. Holiday sales will total $1.45 to $1.47 trillion during the November through January timeframe. In their analysis, this compared to 15.1% growth last year. E-commerce is also forecasted to grow 12.8% to 14.3%, reaching between $260 billion to $264 billion this holiday season. 
The Other More Critical Retail Holidays Stats
Here are some other interesting and important statistics as we prepare for a successful holiday season:
According to E-marketer the 2022 holiday season outlook "is solid, but retailers will need to adapt to a fundamental realignment of the shopping season. Two seasons of pandemic-driven holiday shopping will result in lasting changes to the holiday promotional calendar and reset consumers' expectations around when to shop for the best deals. The 2022 holiday season will be longer and flatter, with less concentrated spending during the Cyber Five period."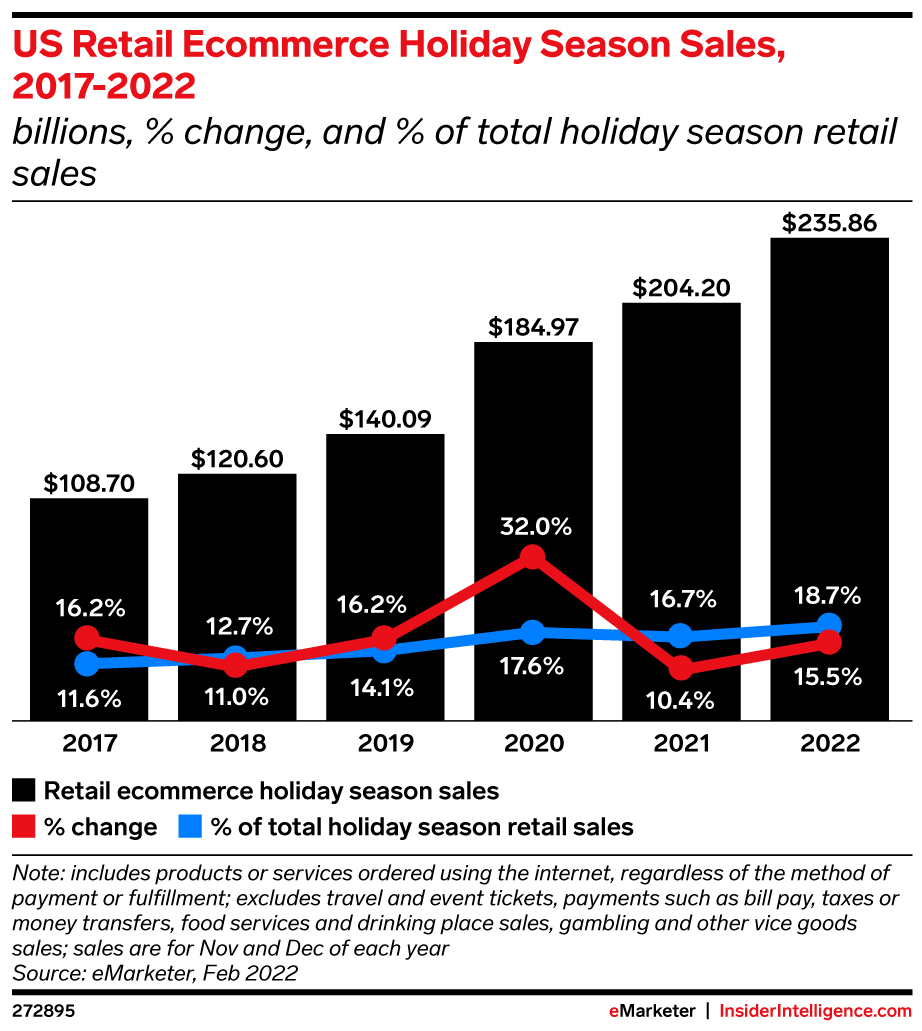 As Caila Schwartz, Salesforce director, consumer strategy & insights, said, "For retailers 2022 is about playing the long game. Economic challenges and shifting consumer preferences mean that leading with a data-driven strategy will be critical to reacting to conditions in real-time. And while we can't stop inflation, we can recession-proof our businesses by improving profitability and solving for operational inefficiencies."
The future of retail includes strong brands delivering immersive consumer experiences which increasingly will be digitally influenced. This holiday season will severely test our execution in responding to the economic headwinds. Winning retailers will focus on loyalty to engage consumers for this and many more profitable holiday seasons to come.